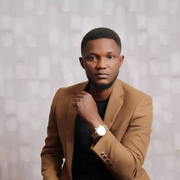 Bunmi Blair, whose real name is Haruna Afoluso Olubunmi, is a sports broadcaster with well over a decade experience in TV, radio and print media.
He is a microbiologist lost to his passion for sports and has created a niche for himself as one of the fast growing young football coaches in Nigeria.
Bunmi is indeed versatile, BSc Microbiology, PGD Journalism, CAF B & C football coaching licences.
Served as assistant coach to the Nigeria national U17 team, the Golden Eaglets, owns a football academy.
His dream is to win the FIFA senior world cup with Nigeria and constantly make the world a happy place for you to live in.