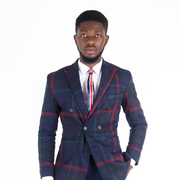 Gabriel Specter, is a radio and television Broadcaster. He hosts the late night show on 95.1 Nigeria Info FM Abuja, Let's Talk; Mondays to Fridays 10pm - 2am and on Saturdays 8pm - 1am.
He boasts of an interesting broadcast career which spans over 5 years, haven worked as a Programs Producer/Presenter, Newscaster and Reporter at People's Television and a brief stint at both 92.1 Vision FM and 93.5 Aso Radio.
A Computer Science graduate, he has gone on to receive professional qualifications and trainings from various reputable institutions.
He also has a vast knowledge of the Academic Sector, haven worked as an English Language Diction Instructor with every class in Basic Education in different schools across the country.
Gabriel Specter is an advocate for Emotional Intelligence specifically amongst Teenagers which has led him to do lots of work both at personal and organizational capacity with teenagers.
He won the Abuja Golden Media Awards for Best Presenter, 2018.
Outside work, he is a Gospel Evangelist, a video game lover, football and transport sector enthusaist.