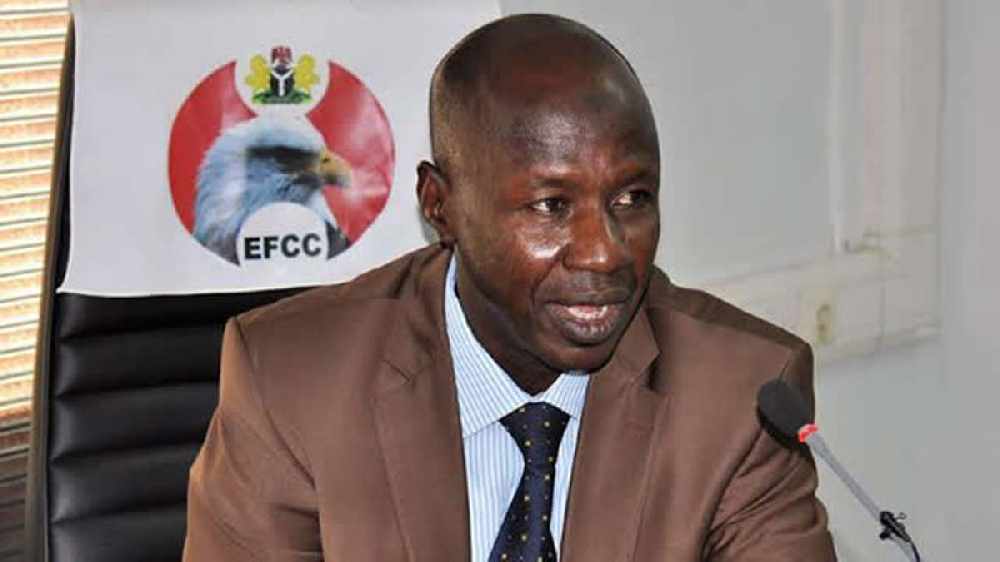 Ibrahim Magu, suspended EFCC boss
The travails of Acting Chairman of EFCC, Ibrahim Magu is the subject of this piece. Will it taint President Buhari's anti-corruption stance?
Ibrahim Magu was supposed to be the corner piece of President Muhamadu Buhari's anti-corruption war rather than the reformed institutions; after all the celebrated anti corruption patriarch of Nigeria's 4th republic, Nuhu Ribadu was handed a one-liner on a sheet of paper as his job description by former President Olusegun Obasanjo. So vague was the role of the Economic and Financial Crimes Commission (EFCC) that it oscillated between chasing small time crooks to sticky fingers 4th republic State Governors. The EFCC deputized for God and drew up its judgment day list of 'who is who' in Nigeria's corruption hall of fame. Ribadu told INEC in 2006 these guys are hereby advised not to run for office.
More than a decade later, the EFCC remains cemented in controversy. Every tsar of Nigeria's top anti-corruption watchdog has entered in controversy and jumped through the window in infamy - from Nuhu Ribadu to Ibrahim Magu.
When Ibrahim Magu was appointed as the acting Chairman of the EFCC, there were the redundant questions: Who's he? Where does he come from? Why Magu? What's his record?
President Buhari approves suspension of #Magu https://t.co/XfsdMH5pnl

— Nigeria Info FM 99.3 (@NigeriainfoFM) July 10, 2020
The answers that stuck out for me as I gleaned through the flurry of chatter were: while the embers of Nuhu Ribadu's tenure died in the late 2000s, Magu was handed a catalogue of files documenting the peccadilloes of more than a score former governors. Another interesting virtue was the no nonsense anti corruption cop had once detained his father in law for half of year while being investigated on charges of corruption. Anyone in nepotistic Nigeria who can jail kith and kin surely has not the tributaries of River Niger and River Benue flowing through his veins.
To coin the maxim to whom much is given much is taken away - Ribadu received a love note from Obasanjo but Magu received one leg of a tripod which President's Buhari's legacy is and will be judged. 'Woe betide thee' Buhari must have told Magu, to borrow Obasanjo's description if the anticorruption war went south and developed kleg.
But alas, it appears a case of cause and consequences: five years after his appointment, Magu remained in acting capacity, because, not only did the National Assembly say 'we don't like your Kleg, Nigeria's secret police declared him unfit for the job.
But President Buhari stuck to his guns, and glued to his man Friday. Magu was going nowhere- he was Nigeria's answer to dealing with corruption, but rather than disappear, the catalogue of corruption cases piled on.
Nigeria's Attorney General, Abubakar Malami is another piece in this chess game-he surreptitiously crowned Ibrahim Magu the Messiah and played the forerunner as Minister of Justice -after 5 years he's decided to place the thorny crown of failure on Ibrahim Magu. It was his toxic memo and petition that set this monster ball rolling.
So, locked in a Mexican standoff with Magu, he's done the grimy business-loaded his barrel with all of his and Magu's failings and fired. Unfortunately, Magu is beyond the crossroads, the chances of his suspension being rescinded and an opportunity to return powder for powder is akin to PHCN providing all Nigerians with uninterrupted electricity supply for one day.
AGF Malami should have set up an internal investigation on Magu instead of this drama- Activist, Sulaimon Arigbabu tells @SheriffQuadry on the Morning Crossfire. What do you think? pic.twitter.com/e2vTmKt64F

— Nigeria Info FM 99.3 (@NigeriainfoFM) July 8, 2020
And so, the media plays blind man's buff with the interrogation at the old banquet hall of the Presidential Villa waiting for crumbs delivered like Professor Odekunle of the Presidential Advisory Council on Corruption describing a titanic fight between the evil forces of corruption and the good forces of anti corruption.
But Nigeria's is a state absorbed in the delirium of infinite drama and then always stuck in amnesia, like the Military boys used to bark in the days 'soldier go soldier come, barrack no dey empty'. It's often difficult to find the moral-I guess we can repopulate the list of unsolved corruption cases and create an adjacent column blaming Magu and Malami on why a number of corruption cases failed at courts or did not conceive.
We've also learnt another bitter lesson on justice by probe panels, the months after President's inauguration in May, 2015, and the nation was regaled by the $2.5 billion dollars arms deal probe-there were names flying in the whirlwind-midnight raids, fantabulous stories of monies buried in farms, grave sites.
The Buhari administration was in hot pursuit to recover the Nigerian treasure galleon-but just like Ndudi Elumelu who dipped in the pie as he chaired the House of Representatives probe panel to look into alleged corrupt electricity deals more than a decade ago, we have another dead ringer.
Please kindly allow me to bring out my bench, primus and sangala and feign rapt attention at the next turn of Nigeria's anti-corruption Kleg.