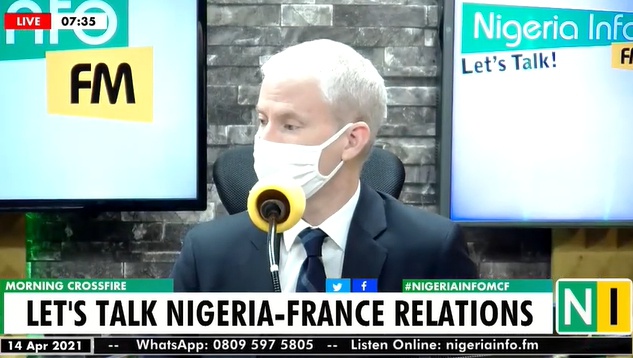 French President, Emmanuel Macron encourages strengthening the Nigeria-French relationship
Nigeria-France Relations - Watch the show
French Minister of Foreign Trade and Attractiveness Frank Riester sat with Sheriff Quadry on Morning Crossfire to talk about the extent of business/trade relationship between Nigeria and France.
Reister said that about 100 companies have been set up in Nigeria by the French government.
He said that President Macron loves Nigeria and wants to do more business done with Nigeria, especially in the area of economics. He also said that France wants more Nigerians to invest in France as well.
France is seeking a win-win partnership with Nigeria as part of its larger relationship with the African continent.
This was disclosed by the French Minister Delegate for Foreign Trade and Economic Attractiveness, Franck Riester. pic.twitter.com/3UWjmsxDL1

— Nigeria Info FM 99.3 (@NigeriainfoFM) April 14, 2021