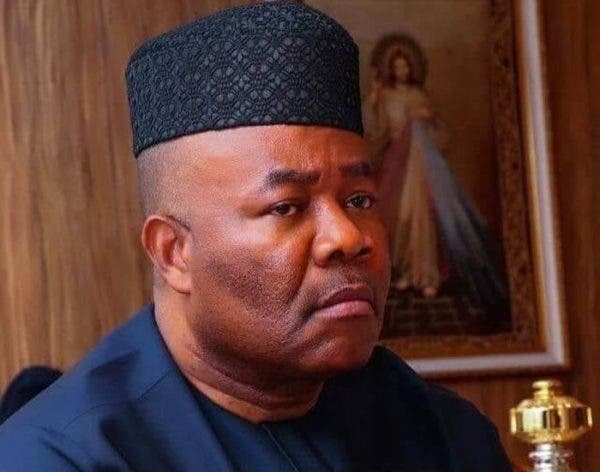 Embattled Niger Delta Minister, Godswill Akpabio
Nigeria's Senate wants the Interim Management Committee of the NDDC sacked as the Minister of Niger Delta, Godswill Akpabio denies accusing National Assembly members.
The Senate on Thursday's plenary called for the sacking the Interim Management Committee of the Niger Delta Development Commission over alleged misappropriation of funds meant for developmental projects in the Niger Delta region.
The Upper Chamber in a resolution also appealed to President Muhammadu Buhari to constitute the board of the Commission, despite the ongoing forensics audit.
These resolutions were reached after the consideration of the report of the Senate Ad-hoc Committee on Investigation of the Alleged Financial Recklessness in the NDDC.
The period under review is between October 2019-May 2020, since the IMC was instituted by the Minister of Niger Delta Affairs, Godswill Akpabio.
In a related development, Akpabio says he did not accuse members of the National Assembly of collecting 60% of the contracts at the Niger Delta Development Commission.
The Speaker @HouseNGR, Femi Gbajabiamila, has given the Minister of Niger Delta Affairs, Senator Godswill Akpabio, 48 hours to publish the names of lawmakers who got contracts from the NDDC as well as the details of the contracts.

Should/Would Akpabio publish the names? pic.twitter.com/NInzWEf6T4

— Nigeria Info FM 99.3 (@NigeriainfoFM) July 22, 2020
Akpabio, made his position known in a letter which was read on the floor of the House of Representatives at plenary on Thursday.
In the letter, read by Speaker Femi Gbajabiamilla, Akpabio said the only reference he made to sixty percent during his presentation before the NDDC committee on Monday was in response to a question by a member of the committee.
The Minister said he responded to a member who sought to know if a Medical Director can serve as an Executive Director Project, and he responded by saying that since 50 to 60 percent of NDDC contracts were medical related, there was nothing wrong in a Medical Director serving in that capacity.
He further added that the Executive Director Project of the NDDC forwarded to him a list of 19 owed contracts which the Chairman of the House Committee on NDDC insisted must be paid before the 2020 budget of the commission is passed.
The letter was referred to the House Committee on Ethics and Privileges.
His denial is coming after the House moved to institute legal action against him for perjury.
On Monday, the minister appeared before the House Committee investigating the NDDC and seemed to accuse members of the National Assembly of getting about 60% of contracts.