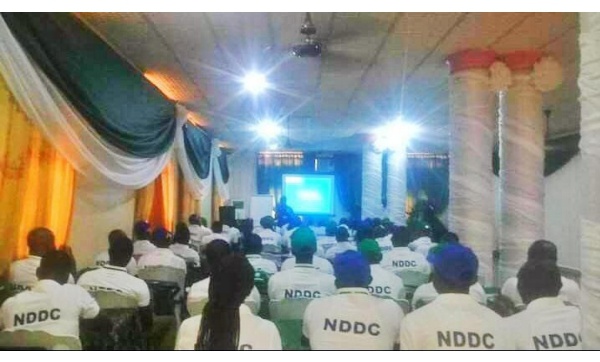 Recounting her sad experience, another trainee of the same program, Stephanie Gold (not real name) corroborated Ariana's story...
By Chioma Ezenwafor
One of the core mandates of the Niger Delta Development Commission, NDDC, is to train and educate the youths of the oil-rich Niger Delta regions in Nigeria, to curb hostilities and also to reduce poverty, but it has not turned out that way.
The experience of David Ariana (not real name) who partook of an NDDC youth training program in 2015, exemplifies the lack of seriousness, mismanagement, inefficiency and corruption that surround the exercise.
According to him, the NDDC never finished the training programmed but abandoned participants in the hotel where the event was held.
"Some persons were selected, about 180 persons. We were asked to go to Owerri for the program. We arrived at Owerri and we had the first session which was that December period, then we closed 19th of that December 2015. We resumed by January 2016. We were about to complete the program because we were preparing for the international exam. That was when they came with logistic issues and we were asked to go."
"We were like we can't just go back like that, whatever the logistic issue is let them just fix it so we can write our exams and finish the course. But, they left us and they called the hotel management to give us a piece of information that when it is 12 o'clock that we are done for the day that we should pack everything and leave the hotel. So that's how NDDC left us."
He continued: "They gave us some kits, they gave us overall, they gave us boots, they gave us bag, and so on. We've been able to go to NDDC on series of occasion then trying to see if they can allow us finish our programs. They've not agreed. The person that anchored the program, his name is Mr Alex from Kalabari. We wanted to go to the media then with some letters we drafted but we didn't have the resources to pursue it. The overall is branded. It has NDDC on the back. Then fiber optic and telecommunication in the front."
Ariana also spoke on how the incomplete program affected him.
"It affected a lot of us because it took our time. Time we would have used to invest in some other thing and the rest. And if I may say, this is one of the best human capacity projects NDDC would have carried out because the persons that came in were such persons that came outside the country. And you know that anything we do now is on fibre optic so it would have given a lot of persons if not all, jobs. The thing really affected us. At that point, we weren't asking for the start-up pack again. We are asking for us to have the certification so it can enable us have a telecommunication company where we can probably fit in and work", he said.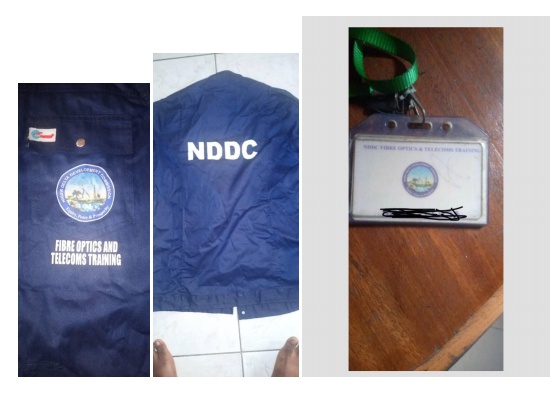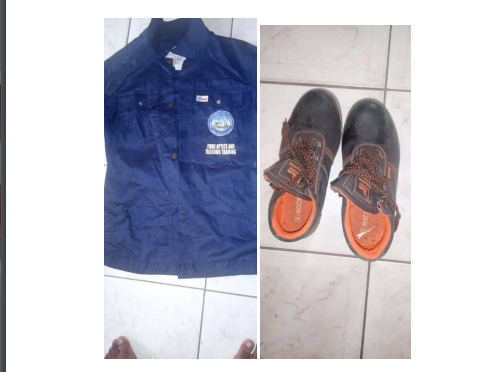 Photos of the coverall and boots Mr Ariana received during the training in 2015.
"We just had to pick up and do other things. After when we're back, we had a new MD then, who promised that everything will work out fine, that there's a new project. We were also handed to the person in charge of youths who told us his office was not there and we met him there", Ariana said.
"He told us, because we met him in NDDC side Aba road. He said they are trying to create a new office for them. They were going to create a new office for him because of the way people are jam-packed there concerning youths and the rest. That immediately that is done he will call for us to see. We dropped our numbers. No information. Because you know militants go there and we didn't want to associate ourselves with them, so, we decided to just let go."
Recounting her sad experience, another trainee of the same program, Stephanie Gold (not real name) corroborated Ariana's story.
"There were two programs that started in 2015. I remember that I'm one of the fibre optic and Telecommunication trainees who were abandoned by the NDDC. The training took place in Imo State - G-Towers hotel and City Global Hotel, along Port Harcourt-Owerri expressway. We started the training but after about one month or so, they abandoned us there. They were giving us hope that they will call us back but up till now, no information about it, she lamented."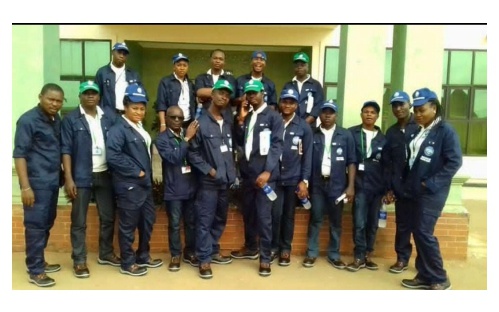 Gold said she missed so many opportunities because of the training. She said it was an interesting training; about methods of transmitting information from one place to the other with optical fibre, a skill anyone would like to have but not without the professional exam, she said.
"They stopped the training. The trainers were not there anymore. No transportation, no food, nothing was given to us. They just left us there without any information. So, we paid our fare and managed to stay there and go back to our various destinations," Gold said.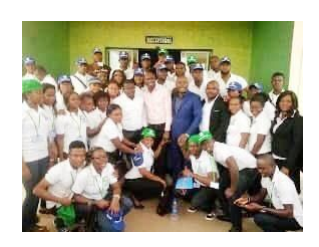 Another female trainee of the same program, Victoria Asemota (not real name), said the exam was not written and none of the trainees were paid and so the training program was not completed. She said the training process affected her ability to secure a good job.
"I studied computer science and a professional certificate in fibre optic and telecommunication would have boosted my chances of securing good jobs. During that NDDC training, I was a serving youth corps member in Lagos and was shuttling between Lagos and Owerri for that training. I also didn't like my place of primary assignment at the time and had sought to change it. I went for an interview then for an NYSC job where I was to be paid N40,000 and was asked to resume but because of that NDDC training, I was unable to go to the new place of primary assignment. That company then was also known to retain corps members after service but I lost all that opportunity because of that NDDC training that year", Asemota said.
She said that some other trainees told her that the contractor said that the NDDC did not complete the funds for the training and so they could not continue.
Asemota, who said she is currently unemployed and has been in and out of jobs since the incomplete NDDC program, opined it would have been better if the NDDC did not do the training at all.
"If they know that they were not going to complete the training, why start it in the first place? This is because I know a lot of people who left their jobs to undergo this training", she stated.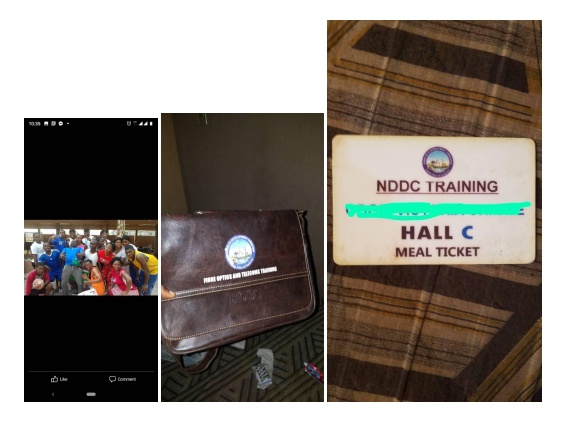 Another trainee of the same NDDC program, Charles Bassey (not real name) said the NDDC had told the over 200 trainees that apart from writing the professional exam, they will get some funds after the training but none of it was done.
He said they had already finished the courses and were to write the professional exam when the program was aborted.
He said no reason was officially given to them for aborting the program but the contractor told them that they didn't pay him. He said the organisers opened a general bank account for all the trainees with Access Bank in Owerri in which they were paid monthly allowances.
Bassey also believes the change in government from the Peoples Democratic Party's to All Progressive Congress, APC, affected the program. But the proof of this is yet to be seen.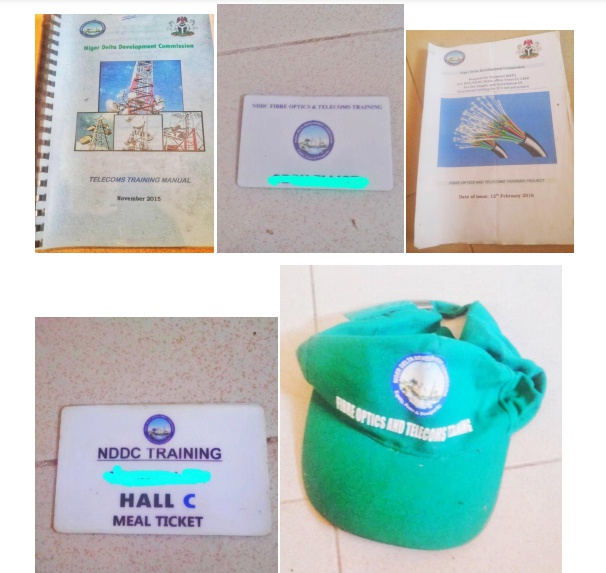 Photos of some of the items Charles Bassey received during the training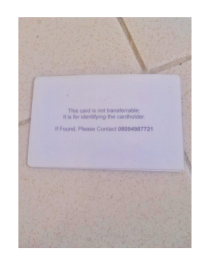 Behind the ID card given to the trainees was a mobile phone number
A call to the above number traced it to a company, Green Data limited.
A LinkedIn search showed the company's Managing Director and Chief Executive Officer is Alex Duke. Many of the trainees remember the training contractor only as Alex, making it likely that he is the one.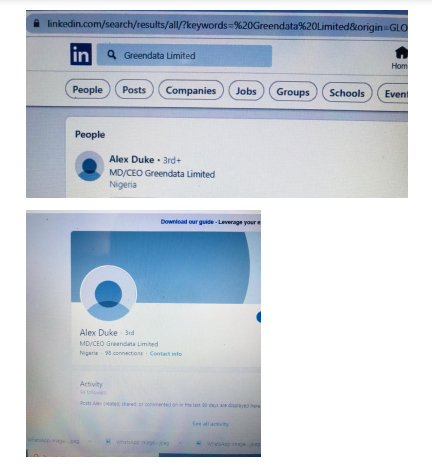 A basic Google search for the company, Greendata Limited, revealed that its head office is in Port Harcourt.
Another search on the portal of the Corporate Affairs Commission, showed the same address and that the company was registered in 2012.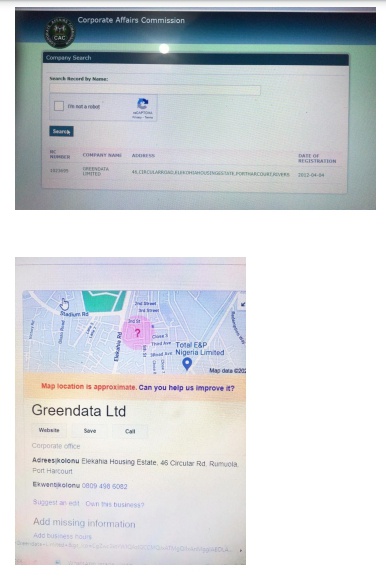 Our correspondent contacted Duke, who admitted that such a youth program was carried out in 2015 but he said it was not abandoned.
"It's not exactly true that the training was abandoned. The training went on as planned, everything about it was good. There were issues with funding and as we speak, the NDDC is sorting all of that out."
He added: "By the way, the report on Wikipedia was falsified and instigated by one or two people we don't know about. The entire program was successful; it's just one or two challenges with funding which they are trying to sort out. The facts regarding the training are with the CID Cirectorate of the NDDC. If you go there, they will give you all the details regarding the training", Duke said.
Our correspondent made attempts to locate the address listed on the company's website, but could not find the given number.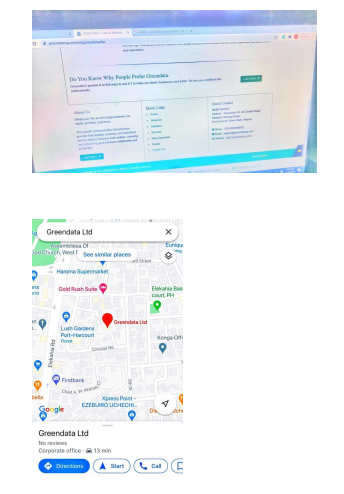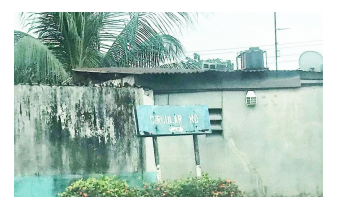 When our correspondent enquired from a resident seen in one of the houses about the said company, it didn't seem familiar to him. He said "there is no company around here." He pointed down the street suggesting a further search could help.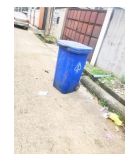 Google Map led our correspondent to premises after the manual attempt to locate 46 Circular Road, failed. There were no signposts to show it was a company. When our correspondent asked Alex about the inability to find his office address, he threatened to sue if our correspondent published any false report about him.
DISTURBING NDDC REPORT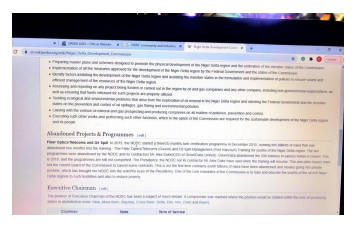 Any google search for the NDDC training programme brings out this Wikipedia report which appears to have been published in 2019 (Embed this link https://en.wikipedia.org/wiki/Niger_Delta_Development_Commission)
The report highlights that the NDDC started a three month twin certification program in December 2015, running into billions of naira that were abandoned two months into the training - The Fiber Optics/Telecoms (Owerri) and Oil Spill Management (Port Harcourt) Training for youths of the Niger Delta region.
The two programs were abandoned by the NDDC and its contractor Alex Duke (CEO of GreenData Limited) GreenData abandoned the 200 trainees in various hotels in Owerri. As of 2019, the programs were still not completed, the report said.
NDDC YET TO RESPOND
After several efforts, the NDDC is yet to answer the questions submitted to the Commission by our correspondent bothering on the training of Niger Delta youths particularly the Fiber Optic and Telecommunication training in 2015.
Our correspondent visited the NDDC office on Aba Road in Port Harcourt over seven times seeking for response on issues raised but no effort yielded any result.
On one of such visits, the contact of the NDDC spokesperson, Charles Odili, was shared with our correspondent by the staff who reached out to him for an interview. Odili initially didn't pick his calls and when he did after text messages were sent to him, he told our correspondent that it was a wrong number.
But, our correspondent reached out to the same number through WhatsApp again which had his profile photo and he is yet to respond to the messages sent to him even though he has read them.
Offiong Ephraim, the NDDC Director of Youths, Sports and Women Affairs, who noted he is new to the directorate, said he could not comment on it as he did not have the details of the program.
"Every program is anchored by different directorates and it doesn't mean because it was a youth program, it was anchored by the directorate," Ephraim said adding that "the program would have probably been anchored by either commission and Industrial developmental youth programs or community and rural development doors programs for youths and then, of course, the youth directorate itself."
When our correspondent enquired about the possibility of abandoned programs by the Commission, he dropped the call.
The NDDC Project Management Information System, PMIS, public portal where details of all programs and projects carried out by the Commission ought to be made available did not capture any youth training program.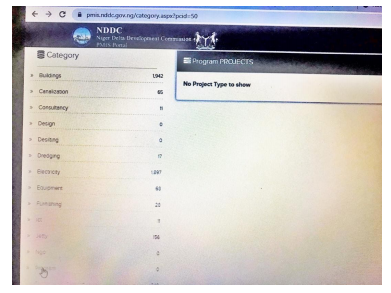 MORE DASHED HOPES
But it is not only the Fibre optics trainees who have tales of woe to tell about NDDC training programmes. In 2019, the Commission also organised another training, an ICT skills acquisition scheme, which like the 2015 programme was also not concluded.
"Our own training program was on ICT, organised in July 2019 in Rivers State. It was supposed to last for six months but it was compressed to about one month and out of the one month, the training did not formally end. The NDDC mostly communicated with us through a text message. We were not given good training and no starter pack as well. When we went to the NDDC to enquire, we were assaulted by a consultant there," Victor Chukwu (not real name) from Ahoada, Rivers state said.
He continued: "They gave us laptops and due to the altercation, some people are yet to receive the receipt of the laptop they shared during the training".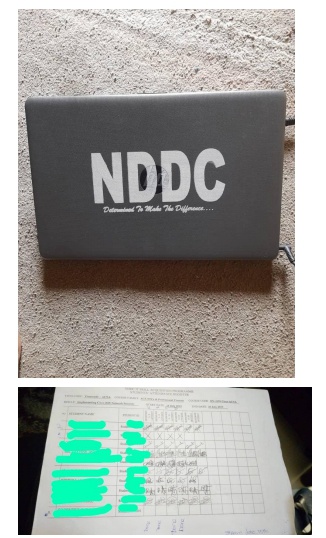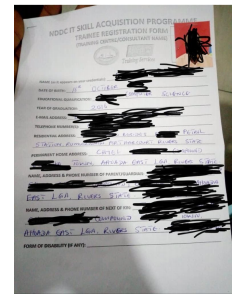 For Saviour Oscar, the National President, South-South Youth Initiative, the NDDC is yet to impact the lives of Niger Delta youths through training programs.
"Some years ago we were invited by NDDC to Hotel Presidential, Port Harcourt, for NDDC Youth summit which was organized by the then S.A to the MD, George Turner. In that summit, the intention was that youths from the nine states (Delta, Rivers, Ondo, Bayelsa, Akwa Ibom, Cross River, Edo and Abia) would be trained and also given start up packages within the Niger Delta," Oscar stated.
"Unfortunately, the target was not met. NDDC that was supposed to take care of lives and youths in the nine states had not given any impact ever since the establishment. It was after that the summit that everything ended. All the issues that were discussed or that were brought to the table none were executed. None was carried out. So ever since that meeting, there has never been any other program again that youths were invited to come and benefit from NDDC.
WAY FORWARD
Darlington Nwauju, Spokesperson of the Niger Delta Rights Advocates, said abandoned NDDC youth programs need to be audited. He said so many young people in the Niger Delta have been left stranded due to the inconclusive nature of most NDDC youth programs.
"It's become a recurring decimal in that agency. Most of the programs are designed ab initio not to even impact on the people, not to impact on the individuals, who they claim they are to train or empower. Most of the programs are designed ab initio as a smokescreen, in order to justify the millions of naira that have gone into individual pockets," he alleged.
Fyneface Dunamene, the Executive Director of Youths and Environmental Advocacy Centre alleges that corruption is behind the failed NDDC training schemes. He said that the commission's staff award contracts to themselves and then sell these to others and that in the end nobody can be held accountable for non-execution of contracts.
"We are also aware of a lot of capacity building programs that the NDDC has organized whereby they give these contracts to contractors that end up not being able to carry out the jobs. They give contracts to one person within the commission. The person sells the contract to the second person, the second person sells it to the third person. Before it gets to the actual person that will execute the contract, there is no more money again to carry out the project. And the project becomes inconclusive," he said.
Dunamene advocated that non governmental organisations should be contracted to undertake skills acquisition schemes, reasoning that such programmes would not be abandoned if they are assigned to known non-governmental organizations with identified structures and capacity to execute such programs.
"Non-governmental organizations have the capacity to work with the youths, and they are well regulated by the EFCC, through the Special Control Unit against Money Laundering, SCUML, and the Corporate Affairs Commission, CAC, especially with the Companies and Allied Matters Act 2020, that has been put in place. And every NGO also has the responsibility of maintaining their organizational integrity. So, it becomes easier to actualize youth development issues through NGOs, instead of companies," he explains.
In March 2015, the Niger Delta Development Commission NDDC said it has trained "no less than 2,245 youths through its various training and empowerment programmes." But the data available in public domain - on the NDDC PMIS public portal - showed zero number of youth programs.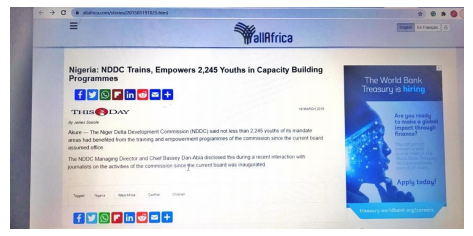 A request to the NDDC Directorate of Youth and Sports for current data on the number of youths trained by the NDDC did not elicit a response.
Our correspondent reached out to some non-governmental organizations in the region on this and they also said that accessing such data from the NDDC remains one of the biggest challenges they face in trying to carry out their various interventions in the region.
One of such NGOs said the NDDC is not "really open with such data and it will be difficult to collate".
* This report is done with support from The International Centre for Investigative
Reporting (ICIR) and McArthur Foundation.