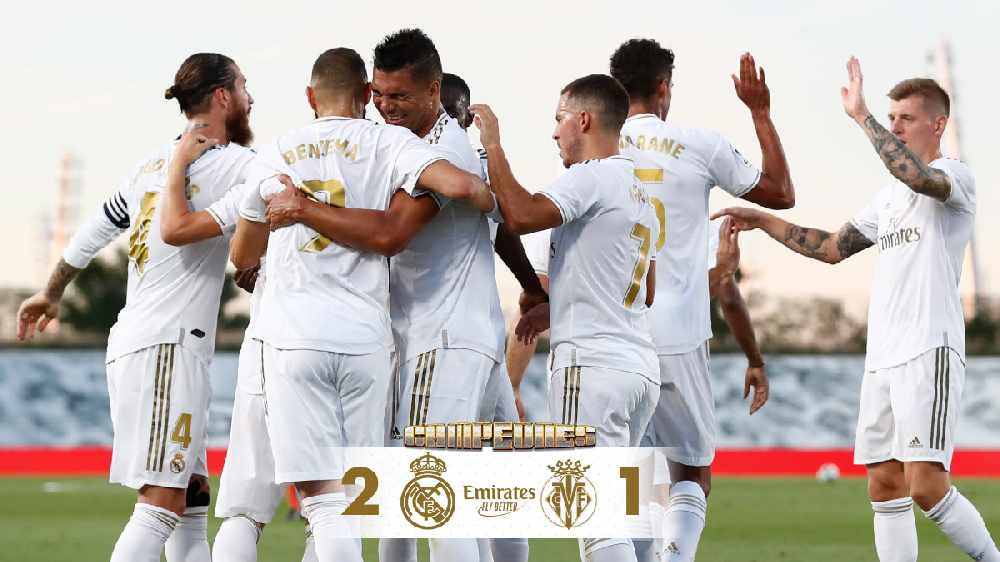 Champions!
Real Madrid manager, Zinedine Zidane, is the only coach to win three UEFA Champions League trophies in a row. But, Ufuoma Egbamuno argues that winning La Liga 2020 is his greatest coaching achievement.
Blasphemy, right?
For a manager, who not only equaled a 27-year record of winning back to back UEFA Champions League, but went ahead to do the unthinkable by doing a hat-trick of titles.
Oh, add that to the fact that one of those European titles was a double, it feels a bit blasphemous to call this night's league victory, even for me writing it.
But, hold on a second and hear me out.
For anyone who's listened to me or followed my social media comments, I've always insisted that winning a league title is a lot harder to do than a Champions League.
I've always insisted that going through a 34 or 38 match routine where you have to deal with injuries, loss of form, etc.; is a lot harder than a European run where the real competition really starts from the Round of 16.
Matter of fact, if you get the luck of the draw, you may avoid the big guns until most likely the quarter finals or semis. It's not every season you get to play the Champions of the top leagues in the knock out stage like Barca did on their way to the 2015 title.
🏆 THAT MOMENT! 🏆#34Ligas | #RealFootball pic.twitter.com/JuFlnc3W1C

— Real Madrid C.F. 🇬🇧🇺🇸 (@realmadriden) July 16, 2020
No, I am not trying to belittle Real Madrid's Champions League Treble cos to be honest, not sure any team will replicate that feat anytime soon.
Zinedine Zidane came back to the Santiago Bernabau after Santiago Solari and Julen Lopetegui struggled to replicate the frenchman's success before them.
But, unlike the 2016 – 2018 era, he met a team in crisis.
Cristiano Ronaldo was gone.
There was a lack of drive in the team. Some may say team was soulless.
A measly 68 points – 19 points behind champions, Barcelona - and third position was all Zidane could muster after being asked to rescue the team.
And when Diego Costa scored four goals in that 7-3 drubbing this time last year, Sergio Guardiola scored with two minutes left at the Bernabau on Match Day Two to earn a point for Valladolid; and Gareth Bale scored a 94th minute equalizer to steal a point at Villareal; we all felt, surely, Barcelona will be getting another league crown come May 2020.
Even a Classico win in March which gave Los Blancos renewed hope was followed by a disappointing 2:1 defeat at Betis keeping Zidane's side trailing Barca by two points before the Covid-19 pandemic stopped football.
But, ten victories since football resumed coupled with Barca's stumbles have ensured a 34th league shield for Zidane's team.
🙌 👔 MERCI MISTER!#34Ligas | #RealFootball pic.twitter.com/FIADd06dlz

— Real Madrid C.F. 🇬🇧🇺🇸 (@realmadriden) July 16, 2020
It's been built with very little coming from Gareth Bale – the man who should have stepped into Ronaldo's shoes.
It's been built without Eden Hazard – who has spent a large chunk of the season on the sidelines due to injury.
It's been built on suffering – yes, Zizou never misses a chance to talk about this.
It's been built on solidity at the back. They only scored 68 league goals.
And yes, it's been built with Sergio Ramos' leadership at both ends of the pitch; Casimero's fighting spirit in the middle of the pack and Benzema's crucial goals irrespective of criticisms from a section of Madristas.
So, Zizou may have won three European titles and even did the double in one of those seasons, but managing this set of players who do not measure up, quality wise, with his Treble winning side, to beat a Messi-led Barca side to the league is Zizou's finest coaching feat for cynics like me who weren't totally convinced with his European feat.
Hats off Zizou, I am sorry for ever doubting you!
SERGIO RAMOS BALLON D'OR FRONT RUNNER
It's July I know. But if there is anyone with best claim to wrestle the Ballon D'or off Lionel Messi at the moment, it's got to be Sergio Ramos.
At 34, the Real Madrid captain is probably playing some of his best football. I could start reeling off stats for but I am not one for stats.
©️💬 This is what captain @SergioRamos had to say after our crucial win at Granada!#RMLiga | #HalaMadrid pic.twitter.com/53dOekK0gC

— Real Madrid C.F. 🇬🇧🇺🇸 (@realmadriden) July 13, 2020
All I will tell you is to go and look at his goal line clearance against Granada a few days with the match hanging in the balance at 2:1.
That, preserved the lead and gave Zidane's side a much-needed victory.
Add the 10 crucial goals he scored in La Liga.
I did say Zidane won this league title mainly from his team's solidity at the back. What I didn't say then was that solidity is synonymous with Ramos.
Bayern's Robert Lewandoski may have a big say though, especially if the German side complete the Treble.
For now, Ramos is my pick.