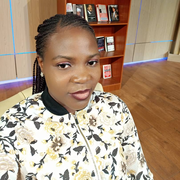 Odiri Akpan is a sports presenter and host of Abuja's foremost football show,Football Frenzy.
With over 10years broadcast experience on both Radio and Tv, Odiri who studied accounting at Nasarawa state university, followed her passion for broadcasting and hasn't looked back since.
She began her journey with a famous sports broadcasting firm in Lagos state ,Sports Vision. She has also anchored Tv shows both at NTA and AIT.
The versatile broadcaster who is also a reporter, correspondent and Editor, is also passionate about Gender Equality, eSPORTS and consumer rights.
Her favorite quote is from Russian Tennis star,Maria Sharapova : "If everything was going smoothly, you will never build character".
Odiri outside of broadcasting READS alot of novels (especially crime and legal thrillers) and enjoys watching movies and Tv shows.
You can follow her on :
Twitter: @aodir2
Insta: sports_divva