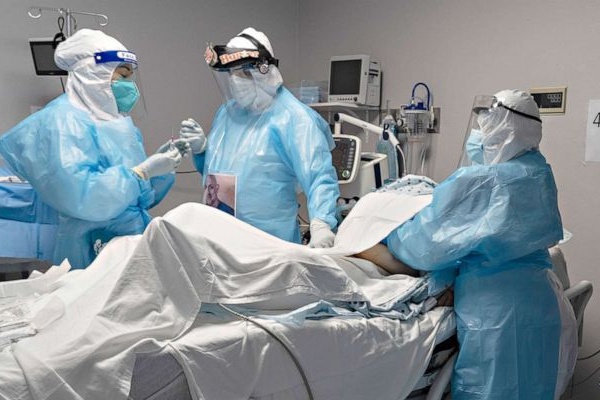 People are not wearing masks. Imagine if we have 200 severe cases daily...
Wemimo Adewuni

A medical practitioner at the Infectious Disease Hospital, Yaba Lagos – Dr. Iorhen Akase- has raised alarm about the highest possible increase in the number of COVID19 infections in Nigeria. Dr. Akase was reacting to the directive by the National Identity Management Commission (NIMC) that Nigerians who had obtained their National Identity Number from the BVN record harmonization with the National Identity Database will be void.
With the second wave of COVID19, Dr. Akase says the medical sector is buckling in under the high number of infections. " It's not about one patient and how it's managed. Now we're talking we all know that the isolation facilities and limited. But we're recording the ever-increasing number of infections. People are not wearing masks. Imagine if we have 200 severe cases daily. We don't have the capacity to manage that number. It's not sustainable to have such a high number of infections."
"While the idea of the NIN registration is well-intentioned, it is coming at the wrong time. I'm not privy to the kind of pressure they face to take this decision but from an infectious point of view, it is not a good time to ask people to crowd these registration centers. We are convinced that by this singular act, in the coming days and weeks we will see the numbers going up. ", he said.
In a bid to reduce the number of cases taken in at isolation centers, the NCDC had advised that mild cases be managed at home. Dr Akase explains that these patients must be managed by a medical doctor, and not self-medicate. He says it is not possible to make COVID19 medications public so that people don't begin to self-diagnose and self-medicate. He recommends virtual interactions with doctors where possible, instead of physical walk-ins to hospitals.
He said the COVID 19 infection has a projected infection rate of three to five persons i.e one infected person can infect up to 5 persons. Dr. Akase further described it as baffling that the government makes such a conscious decision to expose Nigerians. He called for better cross-sector synergy between government agencies to avoid counter- productivity.