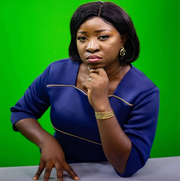 Wemimo Adewuni is a multimedia journalist and media trainer with 9 years experience in Radio and TV production and presentation, as well as documentary film making.
She is a fellow of the Female Reporters' Leadership Programme of Wole Soyinka Center for Investigative Journalism in collaboration with Free Press Unlimited.
Wemimo is a Fellow of the Margaret Ekpo Youth Fellowship program of Youthhub Africa. She also made the shortlist of the BBC KOMLA Dumor award in 2018.
Passionate about impact Journalism, she is the Founder and Creative Director of MEDRIVE ( @medriveng, www.medrive.org) a media hub that provides trainings for African journalists and providing a mentoring platform. She has trained about over 150 journalists in one year.
She works as the Senior Editor Advocacy and Gender Issues, telling stories of underreported minorities. She's also the host of Table Talk, a weekly talk show on Nigeria's most trusted News,Talk and Sports station - Nigeria Info 99.3fm Lagos.
Social Handles:
IG, and Twitter: - @wemimospot
LinkedIn, Facebook, YouTube: - Wemimo Adewuni