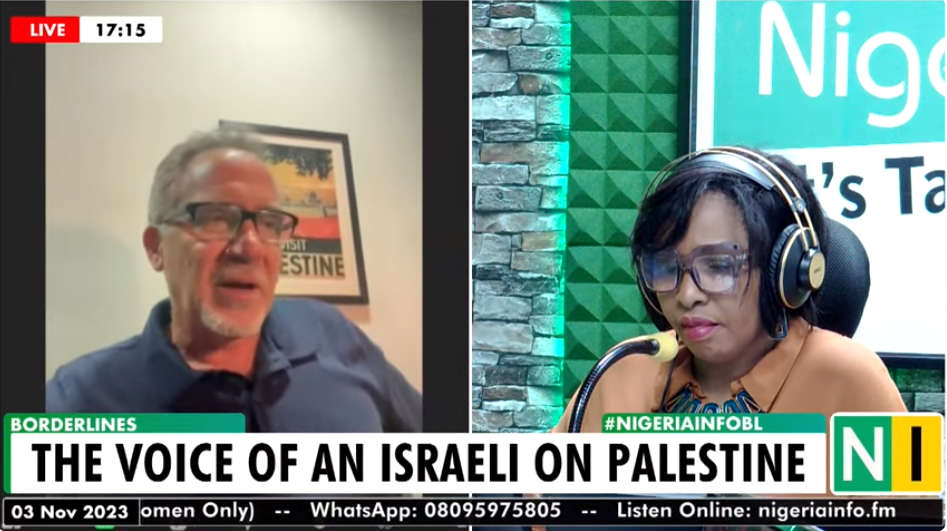 An Israeli author and human rights activist has asked the international community to condemn Israel's unceasing attacks on Gaza, which he described as "brutal."
Miko Peled, the son of a former Israeli General, asserted that any country permitting an Israeli mission in its capital shares responsibility for the ongoing war in Palestine.
Appearing on the inaugural episode of "Borderlines," a global news and politics show on Nigeria Info FM, he drew a parallel between the global reaction to the Russian invasion of Ukraine and emphasized that endorsing a two-state solution legitimizes Israel's establishment as an apartheid state over Palestinians.
"The international community should not have accepted the idea of a two-state solution as Israel imposed itself as an apartheid state over Palestinians," he said.
Peled challenged commentators who date the origins of the recent war to 7 October 2023.
He argued that Hamas is a resistance organization that only reacted to Israel's years-long aggression rather than being a conflict initiator.
According to Peled, the war commenced 75 years ago when Israel declared war on the Palestinian people.
He highlighted Israel's extensive and non-stop bombing campaigns and likened Hamas' resistance to that of black Africans who fought against apartheid and colonialism in the 20th century.
Understanding Hamas
Peled explained that Hamas, established in 1987 during the first 'Intifada,' comprises political and military wings.
He argued that the biggest challenge in the Israel-Palestine conflict lies not with Palestinian resistance but with the brutalization and oppression that led to its emergence.
"It is nonsense blaming Palestinians for fighting for their freedom and against oppression," Peled, a direct descendant of a signatory of Israel's Declaration of Independence said.
He asserted that modern-day Israel has no historical connection to the ancient Hebrews or Israelites mentioned in the Old Testament.
Peled emphasized that the term "Palestine" has described the contested land for 4,000 years, which he said has never been called Israel beyond Biblical references.
In shedding light on these perspectives, Miko Peled challenged mainstream narratives, urging a reconsideration of the historical context and a critical examination of the ongoing conflict in Gaza.