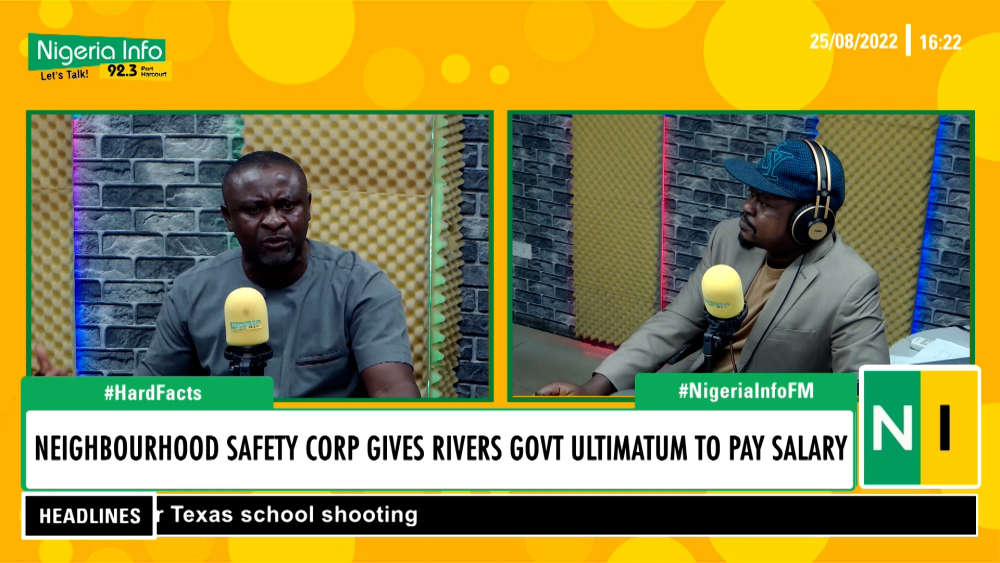 The Director of Operations, Neighbourhood Safety Corps in Rivers State, Mathew Iheanyi says aside from uniform kits provided by the Rivers State Government upon inauguration, the agency has received nothing from the state government.
According to him, neither weapons, vehicles, allowances, salary nor equipment has been provided to aid the operations of the corps since its inception. He said this made carrying out its duties tasking with its members struggling to survive.
Iheanyi made the revelation on Nigeria Info's Hard Facts while responding to questions on the agency's plan to seek a court redress if the state government fails to meet up its twenty-one-day ultimatum.
The Rivers Neighbourhood Safety Corps had decried a non-payment of fifteen months' salary arrears, allowances and others.
Recounting earlier attempts made by the corps to reach out to the Rivers state government, Iheanyi said some of its personnel embarked on a protest to the state government house in Port Harcourt, in July, where the government made promises to resolve the issues in two weeks but no action was taken.
He also revealed that the agency wrote several letters to some Chiefs, Department of State Service, DSS, including the Rivers state Commissioner of Police in a bid to get the state government's attention but all proved abortive.
The Director of Operations who is optimistic the government will concede before the end of the twenty-one-day ultimatum said the agency remains resolute in its decision to approach the court if the government does not respond.
See video: