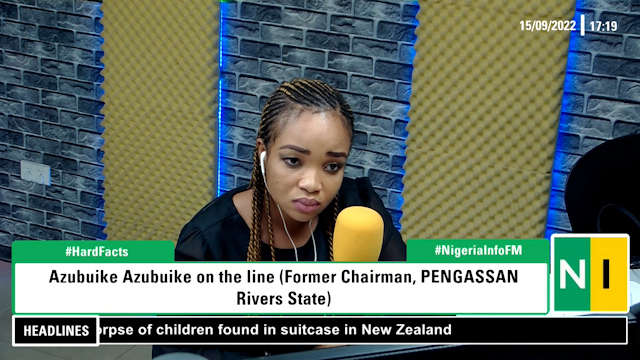 Former Chairman, Petroleum and Natural Gas Senior Staff Association of Nigeria, PEGASSAN, Port Harcourt Zone, Azubuike Azubuike says the association wrote several letters to notify the government of its displeasure in the oil and gas sector before embarking on a protest against oil theft in Nigeria.
Our members are losing their jobs", "IOC,s are no longer investing" he lamented.
This is coming on the heels of complaints of massive crude oil theft in the country.
Earlier, President Muhammadu Buhari had expressed worry over the crude oil theft menace and its impact on the country's economy.
Also, recent figures by the Organization of the Petroleum Exporting Countries, OPEC shows Nigeria dropped to the second position as Africa's largest producer of crude oil.
Responding to a question on a statement from the federal government that it would name and shame those involved in crude oil theft, in an effort to stop this challenge, Azubuike tells Constance Mega on Nigeria Info's Hard Facts that far beyond naming, the culprit should be prosecuted.
"This is an economic sabotage, after naming what next?'' he questioned.
The former PEGASSAN boss also recounted the importation of adulterated petrol saga, which according to him led to the damage of so many vehicles in the country; stressing that there must be consequences for such acts of sabotage.
He said there must be a political will to end crude oil theft in Nigeria.
See video: