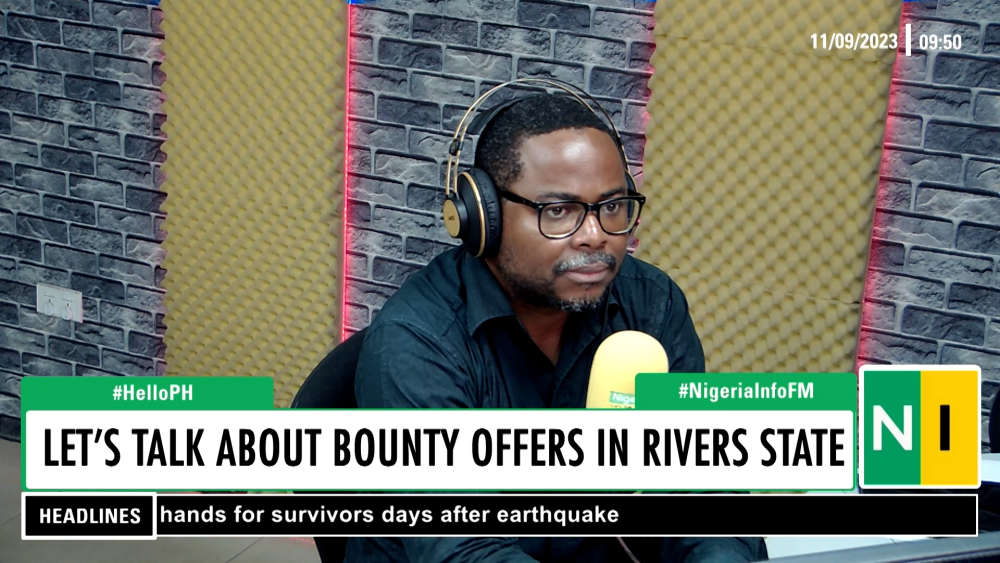 Callers on Nigeria Info FM's Hello Portharcourt keenly argued on the effectiveness of bounties as a strategy in addressing pockets of killings and other criminal acts in the state.
This is coming on the heels of a hundred-million-naira bounty placed on a criminal gang led by one Gift David Okpara Okpolowu, also known as General 2Baba by the Rivers State Governor, Siminialayi Fubara.
2Baba and his gang had ambushed and murdered the Divisional Police Officer,(DPO) of Ahoada division, SP Bako Angbashim on Friday after the DPO led a team of police officers to raid criminal hideouts in Odumude community in Ahoada East Local Government Area.
One caller says the traditional rulers, CDC leaders, and youth leaders in the community should be apprehended for questioning. He argued that using bounties as a tool to nab criminals may be unproductive.
"I think the use of bounties is a good one, is a smart one" a second caller asserts.
He recounts how his father was rescued after he paid bounty to some community members to tell on the kidnappers, whom he says are mostly known by the community. According to him, bounty as a strategy yields results because money is always the motivation for these criminals.
Meanwhile, another caller queried the reactionary approach of both the state and federal governments in tackling crime in the country.
"My sister was part of those who conducted election and was posted to that place as INEC officer, this 2baba kidnapped them, and the government paid money..." He said, adding that the activities of 2baba and his gang are not new to the Rivers government.
He therefore urged the government to be proactive in the fight against crime.
Watch here: