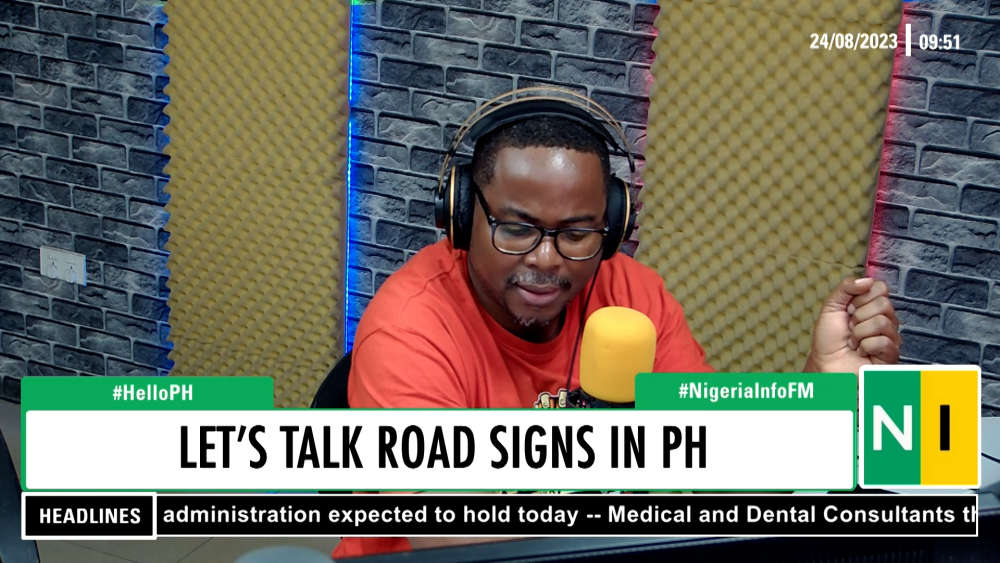 Some Nigeria Info FM callers have raised concern about the absence of road signs on some roads in parts of Port Harcourt.
These callers made the complaint on Nigeria Info's Hello Port Harcourt as they spoke on the challenges plying these roads.
This follows a recent call on the government by some residents of the State to put road signs along the Airport/Obirikwere road indicating ongoing construction to help prevent road accidents.
"…this has been a recurring decimal, this out-of-road signs in Rivers State'' Hello Port Harcourt caller, Brown says.
Recounting a poor road demarcation scenario at the Rukpokwu to Igwruta road axis, Brown said some road users have either bashed their vehicles or lost their lives due to the absence of a road sign warning drivers ahead.
"…I saw it with my eyes; one boy died there… he hit his car and the steering compressed his chest…".He said, blaming the government for failing to address this challenge.
Another caller, Ibiso accused police officers on traffic duty of taking advantage of the situation to exploit unsuspecting drivers.
"The police are supposed to guide people". He noted, adding that his experience with these routes, having lived in the city for years has helped him avoid these road defects.
Ibiso therefore called on the state government to ensure road signs are placed on these roads so road users can take caution.
For Chima, it is panic-stricken every time he drives these routes. He wants more sensitization and signage to guide drivers.
Still speaking on how residents navigate these roads without signs, Micheal says he is familiar with most of the roads, however, he helps other drivers take precaution by shouting, "na one-way oo, na one-way oo…" to prevent them from falling victims of the police, who he claims awaits the erring driver.
Watch here: