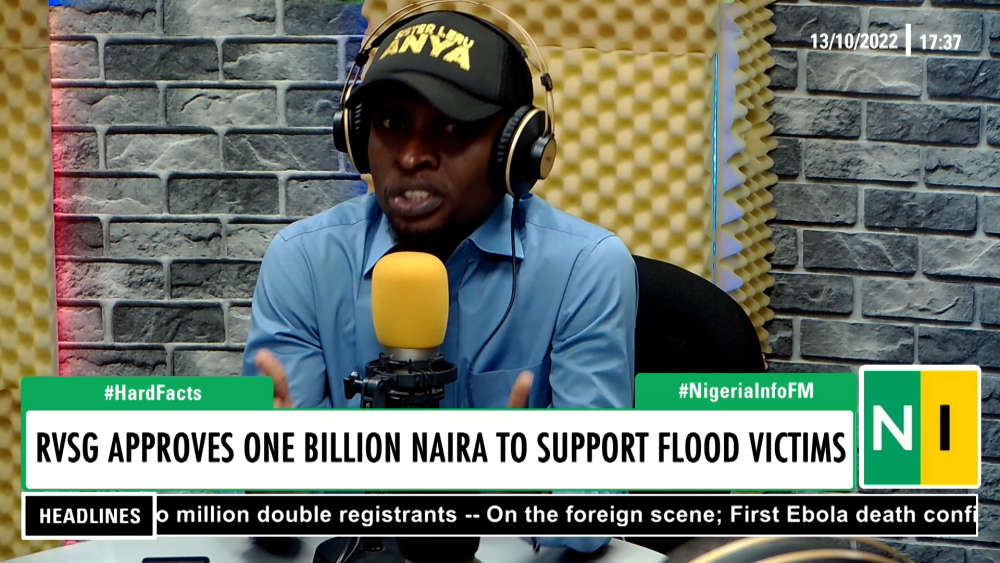 President, Engene Youth Assembly, Ahoada-West Local Government Area, Onem Okenya is worried that a recent effort by the Rivers State Government to support flood victims in the state may be botched.
"My fear is, will these relief materials get to the people?" he asked, doubtfully on Nigeria Info's Hard Facts.
Earlier, the Rivers state government approved the release of one billion Naira for emergency relief measures to victims of flood in Ahoada West and Ogba/Egbema/ Ndoni Local Government Areas of the State.
A government house statement said the governor also set up a task force to coordinate the distribution of relief materials to affected communities in the State.
Okenya recalled past incidents where government palliative materials meant for vulnerable persons were either coveted or diverted.
He said the distribution of the relief funds ought to have been managed by a state emergency management agency instead of a task force committee, faulting the absence of an emergency management agency in the state.
Okenya, however, suggested that the task force committee synergise with the traditional rulers and youths of the affected communities.
He called for the creation of Internally Displaced Persons, (IDPs) camps in highland communities.
"They should build an IDP camp, a permanent one," he said while speaking on proactive measures the government can adopt to mitigate the impact of floods during the rainy season.
See more in this video: