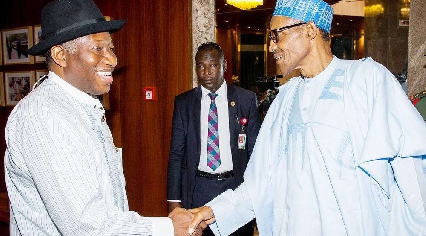 There have been increased speculations about whether former President Goodluck Jonathan will run for his old office in the 2023 General Election and there have been calls for him to do so.
Last month, some protesters besieged the office of the former president with posters and leaflets demanding he joins the 2023 presidential race.
The protesters said, "now, we know better. Under Jonathan, the minimum wage could buy one or two bags of rice. What do we have today? We are begging President Jonathan to forgive us. We have realized our mistakes; we want him back to complete what he started."
In a recent twist to the story, a group of nomadic herders and the Almajiri Community in Nigeria led by Ibrahim Abdullahi picked the Expression of Interest and Nomination forms for the former president on Monday.
Abdullahi while speaking to journalists, said, "I represent two of the most vulnerable communities in our country. The nomadic pastoralists and the Almajari communities have decided to purchase this form for our former president, Dr. Goodluck Ebele Jonathan to come back and rule this country and continue with the good work he has started."
In reaction to the purchase of the nomination forms, the media adviser to Jonathan, Ikechukwu Eze stated that "Dr. Jonathan was not aware of this bid and did not authorise it."
"If the former president wanted to contest an election, he would make his intentions clear to the public and will not enter through the back door," he noted.
As the deadline for the purchase of forms draws closer, Hard Facts host Sandra Ezekwesili, had this to say on the possible implications of Jonathan's presidency on either the All Progressives Congress (APC) and the People's Democratic Party (PDP).