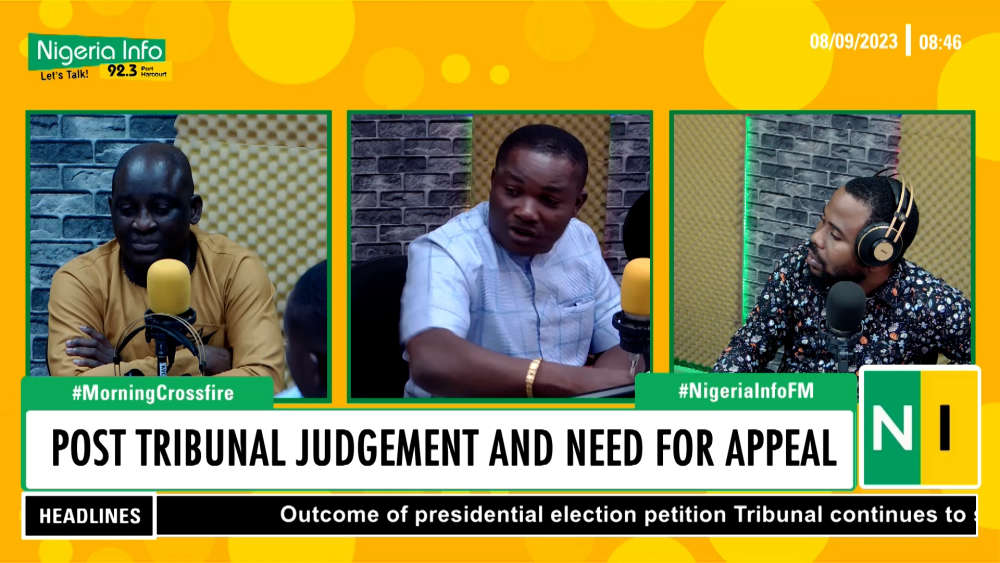 As more Nigerians react to the outcome of the Presidential Election Petition Tribunal judgment, the Labour Party and People's Democratic Party, PDP decision to appeal the ruling has given a twist to the conversation.
Whether or not approaching the Supreme Court is politically expedient is the debate at the core of this conversation.
The Presidential Election Petition Tribunal, PEPT had on September 6, upheld the victory of President Bola Tinubu of the All Progressives Congress, APC in the 2023 Presidential election.
In a robust conversation on Nigeria Info FM Morning Crossfire, Political Affairs Analyst, Olalekan Ige says the judgment should have also "admonished" the Independent National Electoral Commission, INEC following complaints from the petitioners about the difficulty in accessing materials required to prove their case at the tribunal. He believes holding the electoral body accountable for its conduct would set a precedence for conducting future elections.
The tribunal had dismissed one of the petitions filed by the Labour Party for failing to substantiate its claim with material evidence after it alleged INEC reduced the party's votes.
Also, Legal Practitioner, Chioma Choko criticised the tribunal's judgment, accusing the Appeal Court of being contradictory.
Choko explained that the Labour Party may still have a case if it can prove at the Supreme Court that the tribunal contradicted itself with the Presidential election verdict. He argued that the entire proceedings should have been televised to avoid misconceptions about the transparency of the judgment.
Finally, Ige on his part called for a total reform of the electoral commission, INEC as well as a review of the provisions of the Electoral Act on electronic transmission of results.
Watch here: