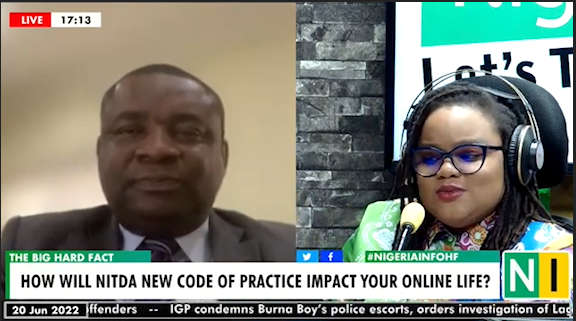 The inclusion of 'morality' in the draft Code of Practice for online platforms is just an attempt to ensure that the things we put out there comply with Nigerian local laws.
This is according to the head of the Legal Services and Board Matters Unit at the National Information Technology Development Agency (NITDA), Emmanuel Edet.
In an interview on Nigeria Info's Hard Facts, Mr. Edet explained that the draft code seeks to create space for both human and automated moderation on social media.
He however added that automated moderation tools are biased and are not designed with Nigerian culture factored in.
NITDA, had on the 13th of June, announced a draft Code of Practice for Interactive Computer Service Platforms/Internet Intermediaries.
The draft was developed in collaboration with the Nigerian Communications Commission (NCC) and Nigerian Broadcasting Commission (NBC), along with input from Facebook, Twitter, WhatsApp, Instagram, and Google.
Head of Corporate Affairs, NITDA, Hadiza Umar said the code aims to "protect the fundamental human rights of Nigerians and non-Nigerians living in the country, along with defining the guidelines for interacting on the digital ecosystem".