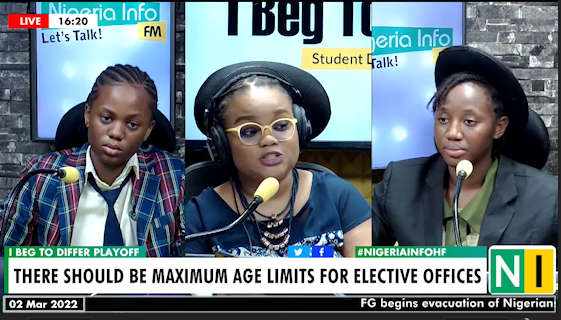 The battle to win =N=1,000,000 at the second edition of the 'I Beg To Differ' student debate tournament began with two contestants battling for a spot at the round of 16.
This time it was 16-year-old Oghenetano Oromena from Star Diamond School and 15-year-old Debrah Pamzat going head-to-head at the playoffs.
Both contestants debated the topic, 'Should There Be a Maximum Age Limit for Elective Offices'
Oghenetano Oromena, who supported the motion, insisted that having a maximum age limit for elective offices will stop old people from clinging to political offices.
She added that health complications will prevent elected individuals from concentrating on the job.
On her part, Debrah Pamzat who opposed the motion said a maximum age limit will lead to the disenfranchisement of individuals.
She added that leading a diverse nation like Nigeria, should not be left for the youths with little knowledge of the political space.
Having weighed arguments from both contestants, the panel of judges decided that Debrah Pamzat came top, and progressed to the knockout stage of the tournament.