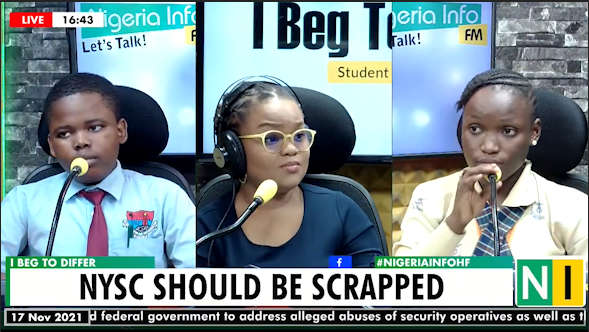 12-year-old Emmanuel Afolarin Busari is through to the semifinal stage of the 'I Beg To Differ' debate tournament after an intense debate with 15-year-old Oluchi Akwarandu.
Both participants debated the question "Should the National Youth Service Corps (NYSC) be scrapped?"
Busari spoke in favour of keeping the NYSC programme, arguing that it is crucial in fostering unity and bringing Nigerians of many ethnic groups and religions together.
In her argument, Akwarandu argued that the NYSC programme has outlived its usefulness, adding that funds allocated to the scheme may be put to better use.
After lengthy deliberations by the panel, both contenders were tied with 18 points each.
This led to a tie-breaker round during which both candidates switched sides of the argument for a final round of arguments.
12-year-old Emmanuel Afolarin Busari won the tie-breaker round and advanced to the semifinal.