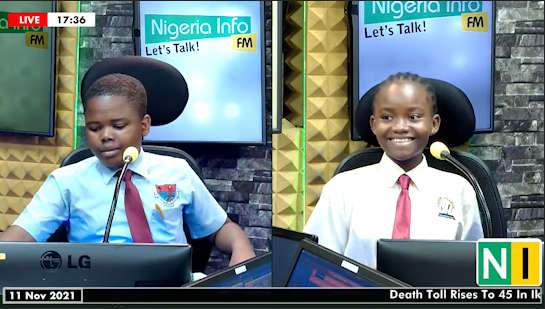 The second debate session on day 4 of the 'I Beg To Differ' debate tournament on Nigeria Info's Hard Facts saw 12-year-old Afolarin Emmanuel Busari advancing to the quarterfinal stage of the debate tournament.
Busari squared up with 10-year-old Anita Dooshima Nuleh on the topic: Schools should teach a Nigerian language, instead of a foreign language.
12-year-old Busari in his argument insists that learning a Nigerian language is an important way of preserving and maintaining culture.
On her part, 10-year-old Anita Dooshima Nuleh argued that individuals who learn foreign languages stand a better chance at exploring the world for bigger and better opportunities.
Afolarin Emmanuel Busari who supported the motion, emerged as the winner of the day's second debate session, thus progressing to the next round of the tournament.
The 'I Beg To Differ' debate tournament has so far seen 7 quarterfinalists; Chiagozie Isidore, Uchechukwu Golden, Ebuka Ebule, Hameed Olarenwaju, Tanvita Koushik, Afolarin Busari and Oluchi Akwarandu.