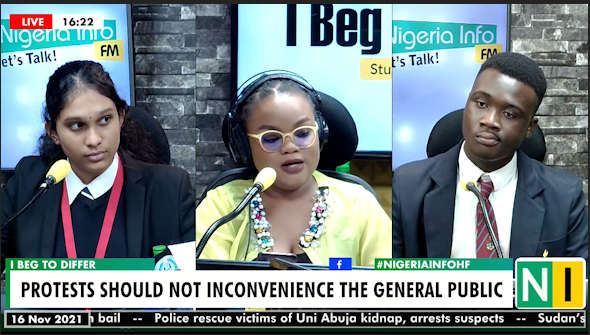 The second quarterfinal matchup of the 'I Beg To Differ' debate tournament on Nigeria Info's Hard Facts saw 13-year-old Tanvita Koushik advancing to the semifinal stage of the debate tournament.
Tanvita squared up with 15-year-old Hameed Olarenwaju on the topic: Protest should not inconvenience the general public.
13-year-old Tanvita in her argument insists that people start to pay attention to issues behind protest when such protest disrupts in some way their daily activities.
Hameed on the other hand argued that 'individuals if not interested will not support or join a course whether or not it's in their faces.'
Tanvita Koushik qualified to the semifinals after scoring a cumulative 19 points while Hameed Olarenwaju scored 16 points.