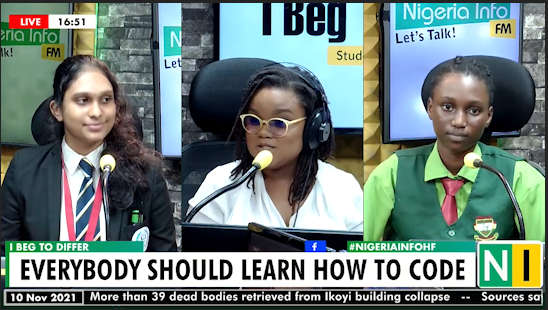 15-year-old Hameed Olarenwaju and 13-year-old Tanvita Koushik emerged winners of day 3 of the 'I Beg To Differ' tournament on Nigeria Info's Hard Facts.
The day's session witnessed Hameed Olarenwaju and 13-year-old Angel Osara and argue for and against the topic: Social Media is a Net Positive.
Olarenwaju, who subsequently emerged winner of the session argued that social media has brought the world closer, aided small scale businesses to market themselves, as well as improved online learning.
His opponent, Angel Osara argued that social media has aided cyberbullying and cyber attacks.
The second debate session saw 13-year-old Tanvita Koushik and 14-year-old Mariam Adekunle slug it out on the topic: Everybody should learn how to code.
Koushik, who supported the motion, argued that learning a coding skill will increase one's chances at getting employed as more jobs around the world require a certain technological skillset.
Adekunle, who opposed the motion insisted that most people who learn to code are either compelled to do it or incentivized by the huge salary base in tech.
She added that most people go into coding without having any passion for it in the first place.
Hameed Olarenwaju and Tanvita Koushik, after much consideration from the panel of judges, emerged winners of the session, thus progressing to the next round of the tournament.