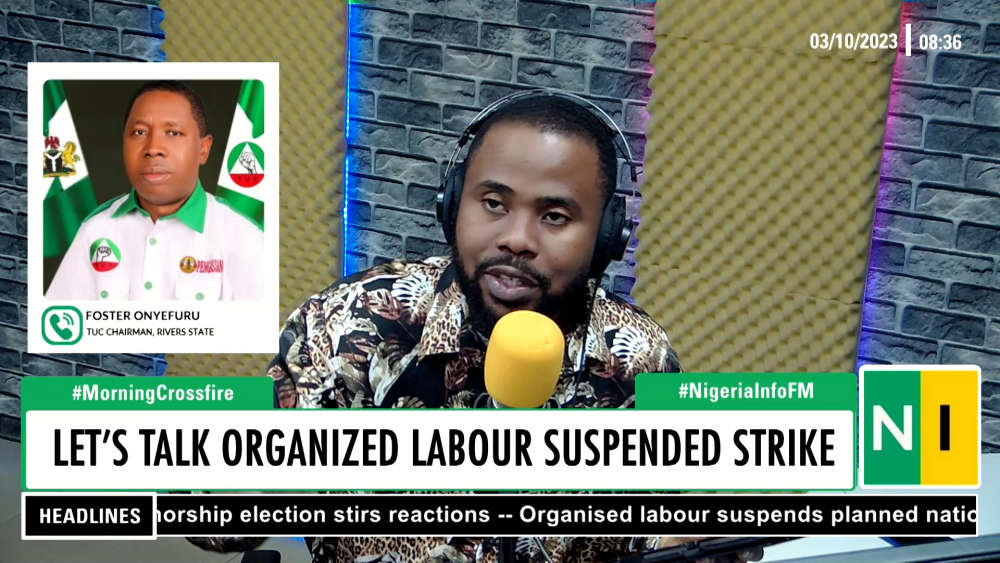 The Chairman, Trade Union Congress in Rivers State, Foster Onyefuru says suspending the nationwide strike was more strategic because Labour has now achieved over sixty percent of its seven demands.
The joint labour unions of the Nigeria Labour Congress, NLC and the Trade Union Congress, TUC yesterday suspended their planned indefinite strike slated for October 3rd, 2023 following a newly signed agreement with the federal government, acceding to some of labour's demand with a timeline for the implementation of others.
Both Labour and the federal government had been at loggerheads over labour's demand for a set of palliatives that would alleviate the suffering of workers, including meaningful wages.
Onyefuru who made the comment in an interview on Nigeria Info's Morning Crossfire, explained that shutting down the nation's economy would be more unbearable for vulnerable Nigerians.
"What do you want us to do strategically… to shut down the country and impoverish Nigerians when you have achieved sixty percent of your demands?" he said.
The Rivers State TUC Chairman, also said there would be a joint visit with representatives of the federal government to the nation's moribund refineries in order to assess the rehabilitation state. He however did not give a date for the visit.
Allaying fears about the federal government reneging on the agreement, Onyefuru noted that the agreement will be filed with the Court as consent judgment and gazetted.
Watch video: