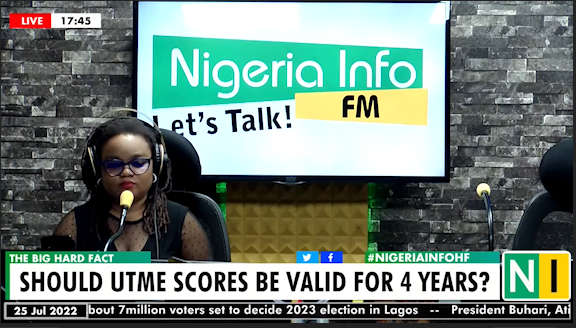 Students seeking a place in Nigerian tertiary institutions may not have to write the Unified Tertiary Matriculation Examination (UTME) every other year.
This is because a bill seeking to extend the validity of the Unified Tertiary Matriculation Examination (UTME) result from one year to four years has passed the second reading in the House of Representatives.
The bill sponsored by Tolulope Akande-Sadipe from Oyo State aims, among other things, to overhaul the JAMB Act of 2021, especially with regard to the validity of scores, the registrar's tenure, and board membership.
On the Hard Facts, Sandra Ezekwesili asked "if UTME results should be valid for four years?"
"There is no certificate for it. It's just an entrance exam, so it shouldn't last for more than a year," a caller said.
He explained further that "the purpose for which it is being done is to get into the university in a particular year and not for a certification."
Another caller who had a diverse opinion, had this to say.
"The UTME should be valid for at least two or three years."
He pointed out that the West African Senior School Certificate Examination (WASSCE) has no validity and as such UTME should not have a validity period.
"The syllabus for UTME has not changed much over the years," so repeating it makes no sense, he added.