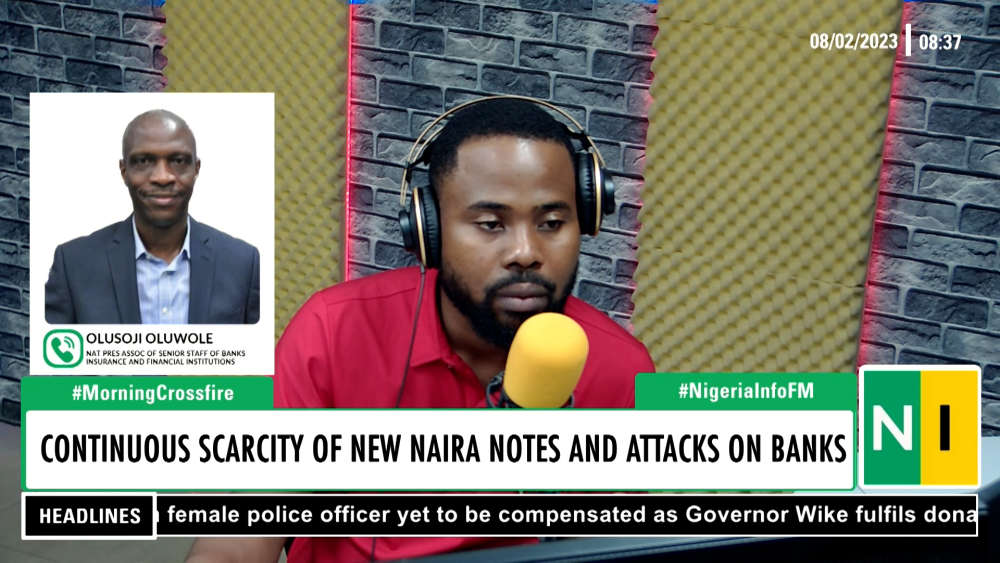 National President Association of Senior Staff of Banks Insurance, and Financial Institutions, Olusoji Olawole has condemned attacks on banks in some parts of the country.
Also, Mr Olawole said a viral online video of a bank allegedly hoarding cash in its vault amid the new naira scarcity was misconstrued.
Clarifying the said video on Nigeria Info's Morning Crossfire, Mr Olawole said the incident took place in January when the Central Bank of Nigeria, CBN barred banks from paying customers with the new notes over the counter, adding that the currency seen in the video was the 200 naira note.
"…the ATMs had to be reconfigured to accept 200 naira notes" he explained.
Nigeria's central bank in its new cash policy drive had earlier authorised banks to pay the redesigned N200, N500, and N1,000 banknotes only through Automated Teller Machines, ATMs.
Mr Olawole claims the cash would have been dispensed if the over-the-counter withdrawal was allowed at the time and as such the said video was misrepresented.
He reveals more about the impact of the CBN new cash policy as well as the challenges experienced by Nigerians who opt for the online banking medium, as an alternative for transactions due to the short circulation of the new naira notes.
See video: