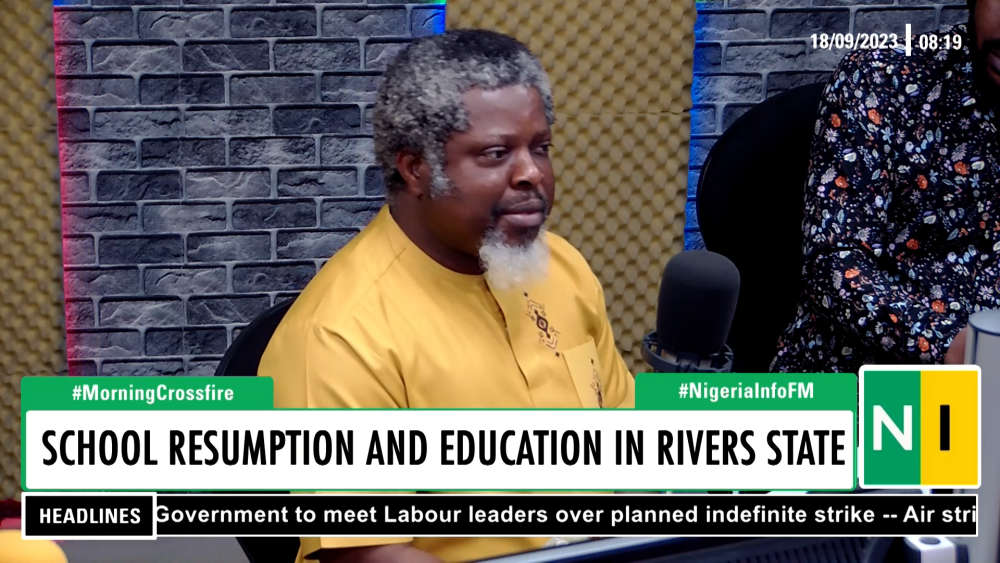 The Commissioner for Education, Rivers State, Professor, Chinedu Mmom says the Rivers State Government is committed to providing free education for students in the state.
This is as public and private schools across the state resumed for the new academic session.
Professor Mmom who spoke on Nigeria Info's Morning Crossfire, unveiled plans by the state government to enhance learning for students and teachers in the new academic session.
He said the government introduced an intensive training workshop for teachers which will run every session before the resumption of academic activities so as to equip teachers with the latest teaching techniques.
The State commissioner for education also disclosed that the state government had approved the procurement of teaching aids to be distributed to teachers across the state.
Professor Mmom added that in line with the current administration's drive to provide free education for all Rivers children, the Ministry of Education also purchased one million, two hundred and ninety-two thousand textbooks for the first tranche of distribution to nursery, primary, and secondary school students in the state for free. He noted that the policy is aimed at improving reading culture among students as some are unable to develop effective study habits due to their parent's inability to afford some of these textbooks.
Speaking further, the Rivers State Commissioner for Education warned against the unauthorised collection of fees from students, insisting that education in the state is free.
Some parents had lamented their difficulty in paying certain academic fees for their children following the resumption of the new academic term.
Professor Mmom urged parents to report any individual or school who compels their wards to pay fees in the guise of any academic levy, stating that enrolment fees for major examinations such as Senior Secondary School Certificate, SSCE, and Basic Certificate Examination for junior secondary students have also been paid for by the Rivers state government.
Watch video: