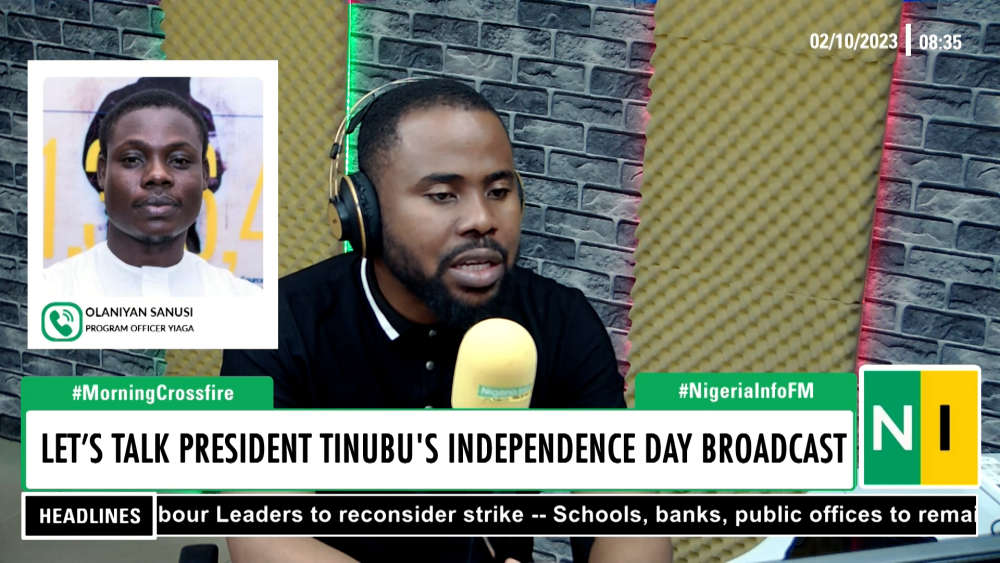 It was a low-key celebration over the weekend, as Nigerians marked the nation's 63rd Independence Day anniversary.
President Bola Tinubu in a traditional Independence Day broadcast, announced a 35,000 naira wage increase for federal government workers across the country for the next six months.
The President among other issues also pledged a distribution of 25,000 naira per month for three months starting from October 2023 to 15 million households, including vulnerable pensioners as part of measures adopted by his administration to cushion the effects of fuel subsidy removal.
Reacting to this on Nigeria Info's Morning Crossfire, the Program Officer of civil society group, YIAGA Africa, Olaniyan Sanusi faulted the provisional increase of workers' salaries for a six-month period.
"What happens after six months", he asked.
Sanusi who lamented the insufficiency of the provisional increase in adequately catering for the needs of workers, called for a total review of the national minimum wage to reflect the current economic reality.
He suggested the government consider reducing food inflation, and expanding mass transit systems for the vulnerable so as to effectively reduce the impact of the subsidy removal on Nigerians.
The Program Officer, YIAGA Africa also added that the National Social Register, NSR which is meant to guide the planned disbursal of funds to 15 million households should be transparent and robust in order to cover indigent Nigerians.

Watch video: