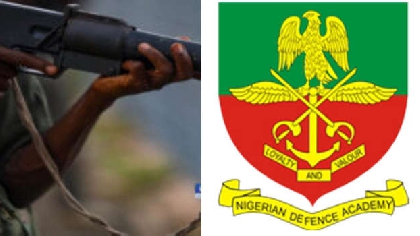 The Nigerian Defence Academy (NDA) has confirmed the death of two of its personnel and the abduction of one after an attack on its residential this morning by "unknown gunmen."
In a press statement by the Academy Public Relations Officer, Bashir Muhd Jajira, the NDA says its "security architecture" was "compromised" in the unfortunate incident.
Jajira says the Academy "in collaboration with the 1Division Nigerian Army and Air Training Command as well as other security agencies in Kaduna state has since commenced pursuit of the unknown gunmen."
The NDA also in the statement insists that the "unknown gunmen would soon be apprehended and the abducted personnel rescued."
Kaduna has been the hotbed of attacks by bandits and terrorists in recent months with abduction and killings the order of the day.
On Monday, at least nine persons have been confirmed killed and one injured by bandits who attacked Unguwan Dooh (Mado) village of Zangon Kataf LGA of Kaduna State.
Also on Monday, three herders were reportedly killed in an attack by unidentified persons who stormed Ribok, Tsoriyang, and Kankada general area of Zangon Kataf LGA of the state.
Last month, at least 120 students of Bethel Baptist Secondary School in Chikun Local Government Area of the state were kidnapped.
In March, gunmen captured 39 students from the Federal College of Forestry Mechanization in northwest Nigeria. 10 were initially released before the remaining 29 were later freed