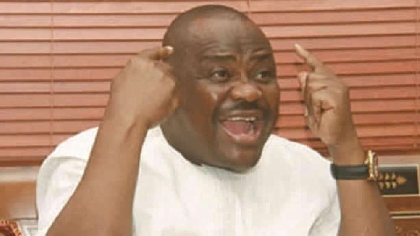 The controversy over who gets to collect Value Added Tax (VAT) doesn't look like it is ending soon. Rivers State Governor, Nyesom Wike is accusing the Federal Inland Revenue Service (FIRS) of attempting to illegally place collection of VAT under the exclusive list.
This move is coming while the legality of the federal government through the FIRS to collect VAT was being challenged in court.
Governor Wike made this accusation today at an interactive session with corporate organisations and other stakeholders in Port Harcourt, the state capital.
He noted that the plans by the FIRS Chairman, Muhammad Mamman Nami shows corrupt tendencies and has vindicated the quest of his administration to seek legal interpretation in court.
Displaying a letter allegedly written by the FIRS chairman to the Deputy Speaker House of Representatives, he said, "we were in court in 2020. Then in July 1st 2021 you wrote to National Assembly through the office of Deputy Speaker of the House of Rep to amend the constitution when we are already challenging that it is not their responsibility to collect VAT.
"He knew that what he was doing was not the right thing. You now in 1st of July wrote a letter to insert VAT under the exclusive list. You already know it is not within your purview and that was why you wrote this letter."
The Governor further explained why he is strong willed in ensuring all VAT is paid to the state. He said his move is to fight the injustice being meted to the state by the federal government.
"In the month of June which we shared in July; VAT collected in Rivers State was N15.1 billion. Do you know what they gave us? N4.8 billion. In the month of June, they collected from Lagos 46.4 Billion, but see what Lagos got, 9.3Billion. Now let me tell you what Kano produced in June. Kano produced 2.8 Billion. Let me tell you what they gave them. Kano also got 2.8 Billion," he revealed.
Wike also warned companies in rivers state not to take advantage of the appeal by the FIRS to refuse to pay tax. He insisted that such companies will be sealed immediately.
"But why we are saying this, it is to make sure you too here will not to take advantage of saying that you don't know who to pay to. It's a lie, you know.
"So don't bring that pranks because we will not look back and seal up the premises of. We are going to inaugurate the Tax Appeal Commission by Friday which is headed by a retired Judge of the state to show you that we are very serious,'' Wike reiterated.