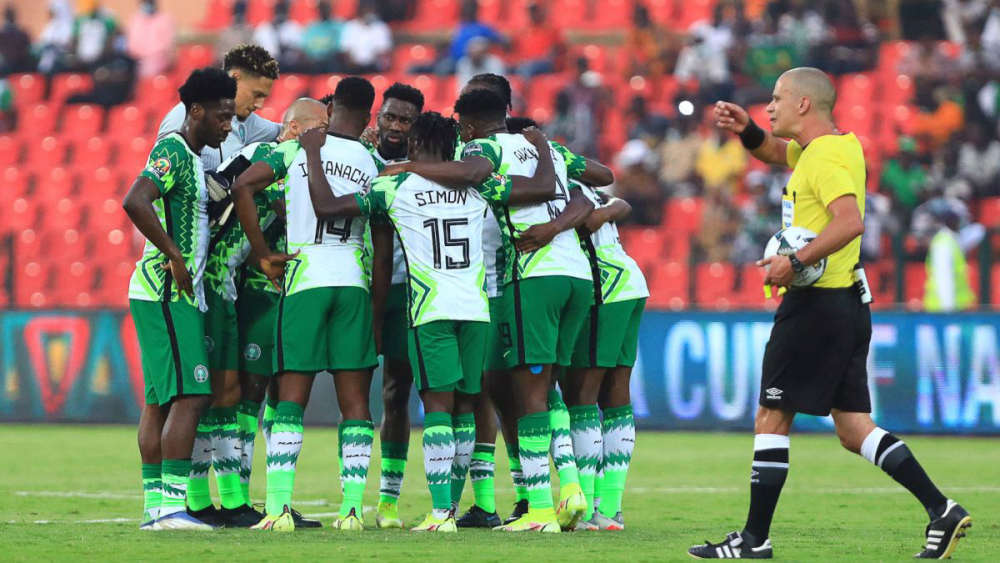 After delivering the best group stage performance at the 2021 AFCON, the Super Eagles had already been crowned favorites by everyone; they had the talent, they had the tactics and most importantly they had a good coach.
Tunisia were almost the polar opposite, they qualified as one of the best third placed teams with 3 points from 3 games. On paper, this was a mismatch, but these two big names in African football put on a great show with an unexpected finale. Let's analyze what went on in Nigeria vs Tunisia.
Lineups
Nigeria lined up in the 4-2-3-1/4-4-2 system preferred by coach Augustine Eguavoen, the former Nigeria player stuck to the principles of not changing a winning team - Maduke Okoye in goal; Ola Aina, Troost Ekong, Omeruo and Sanusi made up the back four, Joe Aribo and Ndidi formed the base pivot in midfield, Moses Simon and Samuel Chukwueze flanked Kelechi Iheanacho and Taiwo Awoniyi up top.
Tunisia lined up in a 4-3-3; Said in goal, Drager, Ifa, Talbi and Haddadi in defence, a midfield trio of Laidouni, Shkiri and Slimane with an attack of Msakni, Jaziri and Rafia.
Eagles have their wings clipped
The key to Tunisia stopping Nigeria during the game was effectively doubling wide players when they received the ball. Moses Simon and Chukwueze were marked out of the game. Drager, Rafia and Slimane did a number of Simon especially, almost forming a triangle around him to prevent him from progressing the ball.
Moses Simon and Chukwueze were double marked throughout the game.
It was a bad day for the two wide players as Tunisia always had their wide midfielder double with their fullbacks to maintain a numerical advantage in wide areas. When Simon decided to try and dribble out of that, the Tunisians were on hand to force him to turnover the ball.
Simon and Chukwueze completed just 4/12 dribbles against Tunisia
Tunisia forced the issue, making Nigeria go wide in order to get the ball out of their wingers' hands, and it worked to perfection.
No joy for Aribo
The midfield duo of Ndidi and Aribo were also shut down by Tunisia's tactics; the duo are the key to Eguaveon's system - Ndidi the facilitator creating passing opportunities to progress the play, and Aribo serving as the link man between the midfield and attack.
In this game, their influence was dwindled, the duo had less touches than all of their back four. Aribo especially was forced deep anytime Nigeria had the ball, Tunisia compacted the space he could roam in and as a result he had to drop deeper to receive the ball.
Joe Aribo's touch map vs Tunisia, he had little to no influence in the final third as he had done earlier in the tournament.
Tunisia's system effectively clipped the wing play of Nigeria while suffocating their midfield - Eguaveon had no response for over 60 minutes.
Carthage eagles strike
The killer blow was the goal Tunisia scored early in the 2nd half, it was sort of the icing on the cake for such a brilliant tactical display. After Tunisia forced a turnover to a throw-in, they switched play quickly and got a 3v4 matchup with the Nigerian defence - the runs of the players did enough to pull apart the players and Msakni got just enough space to shoot and score.
Tunisia able to get numbers in behind Nigeria's midfield
Conclusion
Nigeria's defeat to Tunisia was a very worrying sight; considering the team looked like they had little to no flaws in the tournament so far. However, it goes to show that at tournaments like this, the best coaches have Plan A to Z lined up in case anything goes wrong.
There were a few hints that the coach would be willing to adapt and be flexible during the Sudan and Guinea Bissau games, where he experimented with overlapping fullbacks and inverted wingers - but nothing went according to plan for Eguaveon.
Tunisia showed as they did in the 2019 that they are a team willing to adapt to the opponent during tournaments, and that combined with their technical ability makes them a dark horse for any tournament they play in.
Mike Tyson once said "Everybody has a plan till they get punched in the face"; unfortunately for Nigeria, Augustine Eguaveon never recovered from the finishing punch.