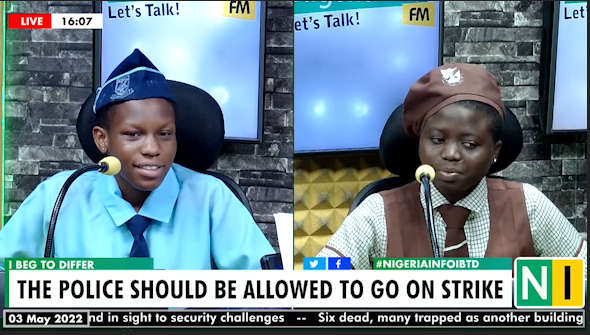 The battle to win N1 million at the third edition of the 'I Beg to Differ' Student Debate has begun with two contestants battling for a spot in the Round of 16.
14-year-old Chidinma Benita Nwabeke from Ikeja Senior High School went head-to-head with 15-year-old Yusuf Nura of Sanya Senior Grammar School in the playoffs.
Both contestants debated the topic, 'The Police Should Be Allowed to Go on Strike.'
Nwabeke, who supported the motion, insisted that "the job of the police requires both physically and mentally demanding and hence the need for the police to go on strike to demand better welfare."
Nura on the other hand insisted that a strike by the police would lead to a breakdown of law and order.
She added that "dialogue is a better way to deal with issues plaguing the police force."
Having weighed the arguments of the two contestants, the panel of judges picked Chidinma Benita Nwabeke as the winner.
She advances to the knockout stage of the tournament.