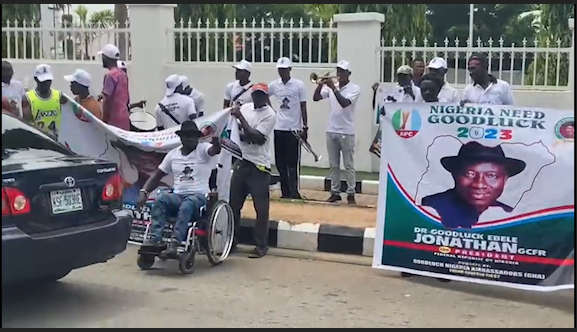 A group known as "Jonathan Support Group" on Fridaya besieged the national secretariat of the All Progressives Congress (APC) demanding the adoption of former President Goodluck Jonathan as the concensus candidate of the party.
The group's spokesman, Umar Waja said President Jonathan is the best among the presidential aspirants of the APC.
He maintained, that President Jonathan had done it before and should be allowed to do it again.
"We are calling the Nigerian president, President Muhammadu Buhari, the National Working Committee under the distinguished leadership of Senator Dr Abdullahi Adamu, Sarkin Yakin Keffi, to adopt Goodluck Ebele Jonathan as the consensus candidate for the betterment of this country.
"We have seen what he had done in the last six years when he was steering and piloting the affairs of this country.
"We need him at this crucial time because Nigeria needs to be united and we believe he will be the only person that will unite this country so that he will take us to the promised land where we ought to be and where we should be in this country," he said.
Mr. Waja also said that Mr. Jonathan is a member of the APC when asked about the former president's party.
Another member of the group, Temple Beregun said the deeds of Mr Jonathan when he was in charge of the affairs of the country are needed again.
The Lagos State government has begun crushing impounded commercial motorcycles also known as okada.
The motorcycles were seized after the ban on motorcycle operations became effective on June 1. pic.twitter.com/KpKpmzNOL9

— Nigeria Info FM 99.3 (@NigeriainfoFM) June 3, 2022
"Yes, I want Goodluck Jonathan to come as President of Nigeria because he has shown himself, he has proven himself a formidable leader, because at the time he was president he cut across every sector of life in Nigeria.
"In terms of employment, all federal parastatals recruited.
"In terms of education, as you can understand, ASUU strike happened even at his period and he was able to tackle it.
"Not just only in the federal universities but all the state universities.
"Like, let me use Nasarawa State University as a case study; if you go to Nasarawa State University now, all the formidable, all the magnificent buildings you see there are buildings done by TETFUND.
"It was as a result of Goodluck Jonathan's regime that all that took place.
"So, we want him back like even in the North having got to understand that the almajiri issue is beginning to become a menace, he was able to create almajiri schools in order for these people to be educated. so we want him back," he said.