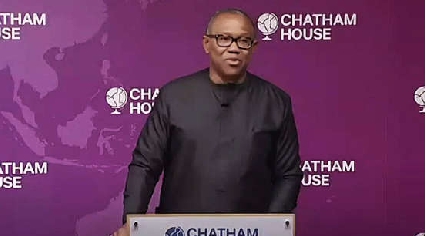 Labour Party (LP) presidential candidate, Peter Obi says there would be no "sacred cow" when dealing with insecurity in Nigeria, if he is elected.
Speaking Monday at Chatham House in London, he noted that "the ethnic tension in the country is largely due to marginalisation, injustice and unfairness," and to deal with this if elected, Obi said his administration would "show compassion and carry everybody along."
"Borno is part of Nigeria and if Borno is not secure, Nigeria is not secure. Hence, we must not see any part of the country as separate from the rest," he said.
The Labour Party presidential flagbearer also stated that he and his running mate, Datti Ahmed will ensure no Nigerian remains in any Internally displaced persons' (IDP) camp.
Obi stated that his administration will solve poverty in northern Nigeria by utilising "the vast lands" in the area which he said are "far more in terms of asset and revenue generation than oil."
Obi is the second-high-profile presidential candidate in this campaign season - after Bola Tinubu, the presidential candidate of the All Progressives Congress (APC) - to appear on the podium at Chatham House.
During his infamous appearance, Tinubu passed the bulk of the questions he was asked to some key members of the entourage that accompanied him to London.
Those who answered questions on his behalf were Nasir El-Rufai, the governor of Kaduna State; Professor Ben Ayade, the governor of Cross River State; and Femi Gbajabiamila, the speaker of the House of Representatives.