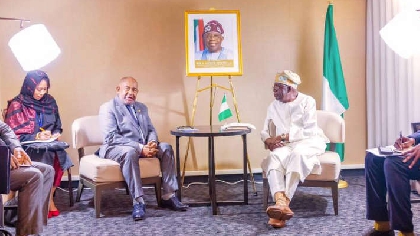 The African Union (AU) can count on the support of Nigeria when it comes to stability and progress for the continent of Africa.
President Bola Tinubu gave this assurance while in conversation with President Azali Assoumani, the President of the Union of Comoros and Chairperson of the African Union (AU) in New York on Monday.
Ajuri Ngelale, the presidential spokesman, made this known in a statement he credited to the president.
"You can call me at any time and we will discuss the peace and stability of AU member states. We need stability and prosperity for the black race. This is our era. We must be peaceful in order to take maximum advantage of the developmental opportunities presented to Africa in this era. We must build a model of sustainable development", the president said.
According to him, commendations must go the way of the AU for its efforts to bring peace to the Sahel region of the continent.
"We appreciate that the AU is working hard to bring about peace in the Sahel and is actively negotiating between the warring factions in Sudan. Peace in Sudan will be a great achievement. I appreciate your effort in Burkina Faso and our effective cooperation on Niger", said Tinubu.
He further noted that with the backing of Africa's most populous black nation, Nigeria, the AU's tactical placement can help the continent with economic and socio-political relations with the world.
"Nigeria will collaborate with you, but we must move beyond those whose vision of Africa is narrow and evil. We are not afraid of confrontation, but we prefer to be restrained for now, at this time", he noted.