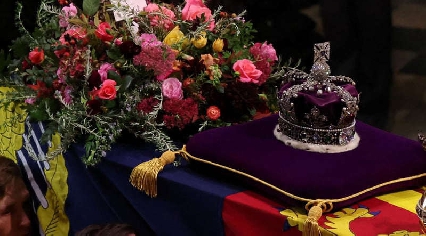 Mourners lined up from Westminster Abbey to Windsor Castle to bid a final farewell to the longest-serving British monarch.
Several world leaders were in attendance as the Queen's coffin made its final journey to Windsor Castle, including King Philippe and Queen Mathilde of Belgium; the Vice President of Nigeria, Yemi Osinbajo; the US President, Joe Biden; the French President, Emmanuel Macron; and the Canadian Prime Minister, Justin Trudeau.
The coffin had been lying in state at Westminster Hall since last Thursday but was taken in procession from the Palace of Westminster to Westminster Abbey on Monday morning, where Her Majesty's state funeral service took place.
The Queen travelled in procession from Westminster Abbey to Wellington Arch, and then to Windsor.
Once there, the coffin was placed inside the state hearse.
It then travelled in procession to St. George's Chapel, Windsor Castle via the Long Walk for a committal service.
As Big Ben tolled, Her Majesty The Queen's coffin made its final journey through London.

From Westminster Abbey, along Horse Guards, down the Mall to Wellington Arch, the Procession included detachments from British and Commonwealth Armed Forces. pic.twitter.com/JYb4BZFeGZ

— The Royal Family (@RoyalFamily) September 19, 2022
Queen's Coffin Arrives in Windsor
The state hearse carrying the Queen's coffin later arrived in Windsor in preparation for the procession towards Windsor Castle.
The procession then prepared to step off from Shaw Farm Gate and make its way to St George's Chapel at Windsor Castle.
The sceptre, orb, and crown of the queen will be removed and placed on the altar at Windsor.
The lord chamberlain, the highest ranking officer of the royal household, breaks his "wand of office" and places it on the coffin as a symbol of her passing.
The lead-lined oak casket, draped with the queen's colours, will be lowered into the Royal Vault as a lone bagpiper plays a lament.
At 16:00 Her Majesty The Queen's Committal Service will take place at St George's Chapel, Windsor Castle.

Read the Order of Service:

— The Royal Family (@RoyalFamily) September 19, 2022
A private interment ceremony will take place at the adjoining King George VI Memorial Chapel.
The longest-serving monarch in British history died at Balmoral, her Scottish Highland retreat, on September 8 after a year of declining health.
Her eldest son and successor, King Charles III, dressed in ceremonial military uniform, followed the solemn processions, alongside his three siblings.