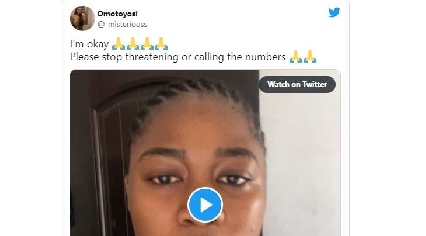 7:15 am on Thursday, a lady identified as Toyosi put out a disturbing tweet that she was being kidnapped and raped. She also added an address of her location and a number to call.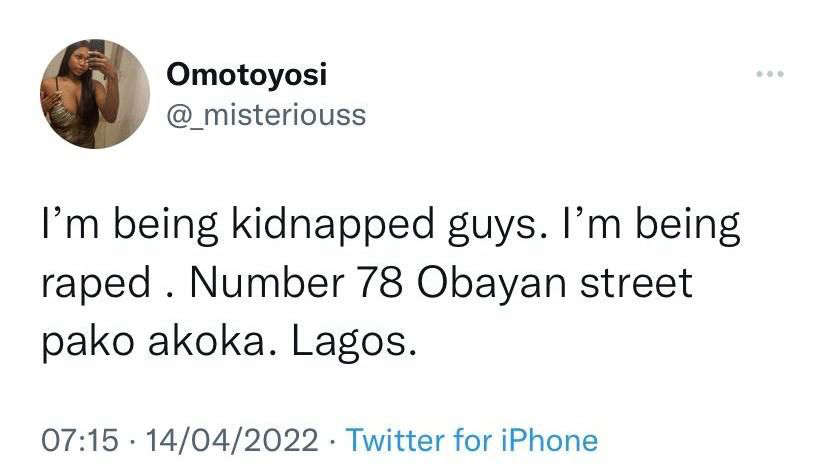 About an hour later, Toyosi put out another tweet saying her distress tweet was false and also pleading with social media users to stop calling and threatening the number she dropped earlier.
Shortly after, she made a video saying she is fine and at home.
Before then, Twitter users had not only called the number on Toyosi's first tweet but had also reached out to the police.
I called the number she dropped and he picked. The call cut before we could have any meaningful conversation. He's not picking anymore

— Toyosi Godwin (@ToyosiGodwin) April 14, 2022
The Police are already on their way there.

We need answers. pic.twitter.com/qzrMQQjKaA

— Mo-Mo (@Morris_Monye) April 14, 2022
Many online users are now upset that Toyosi was clout chasing with sensitive issues like rape and kidnapping.
So this girl was chasing clout? Oh my God. What is wrong with you?

— Dr Dípò Awójídé (@OgbeniDipo) April 14, 2022
Toyosi's brother says she's fine, he said police has gone to the house of the guys address she dropped and his parents are on their way there, not a small matter. Clout chasing is so bad. pic.twitter.com/bQyvn1WL7C

— OTUNBA (@ManLikeIcey) April 14, 2022
Toyosi's brother said she's fine and in her house but she's scared because of the clout went wrong, he's on his way to her house.

— OTUNBA (@ManLikeIcey) April 14, 2022
Apparently she is fine.

She used rape for clout chasing to gain followers.

But the Police are involved and will get to the bottom of the issue at the station. https://t.co/whxmCyUaQF pic.twitter.com/7cKM1QC5Cf

— Mo-Mo (@Morris_Monye) April 14, 2022
Even though the alarm was false, the police responded speedily, drawing praise from Twitter users.
At the very least, we should commend the speedy response of the policemen to the scene.

— Dr. Chinonso Egemba (@aproko_doctor) April 14, 2022
Naija Police can respond that swiftly?

Wawu! I'm amazed.

— Daddy Z (@TheSeunOreks) April 14, 2022
Twitter NG brought 2 different squad of Police to the scene.

The fastest response time ever too... Almost like American 911 response time.

Greatest community of Nigerians belong on this app. Undefeated app.

— Mo-Mo (@Morris_Monye) April 14, 2022
A man who identified as Toyosi's brother posted a video on his Twitter page saying she is fine.
My sister is fine, we will be heading to the police station soon

Thanks guys pic.twitter.com/90EOHIl9xI

— Folami🍫🍷 (@TBBnation) April 14, 2022
Some Twitter users want Toyosi to be arrested and punished for raising a false alarm.
People who make false accusations should be punished because they not only harm the person they accuse but they also make it easier for people to dismiss those who are telling the truth about being raped or kidnapped.

Toyosi suppose spend this Easter for cell.

— MEJE ✪ (@callmeMEJE) April 14, 2022
@Idongesituduehe on her part wants Toyosi to be made a scapegoat for intending ''clout chasers''.
Let's see a video of Toyosi explaining reasons she's chasing clout with rape. Make she be first scapegoat. 🤲🏽

See how everyone showed up for her even the police. 🤦🏼‍♀️

— Idongesit Uduehe(cook_idy) (@IdongesitUduehe) April 14, 2022
That Toyosi deserves same punishment as a rapist. Cos these are the people that make people to start doubting the real rape victims.

How will you be chasing clout with rape.

— Dapsy𓃵 (@symplyDAPO) April 14, 2022
On the other hand, a handle, @chydee believes clout chasing is one of the reasons emergency response numbers won't work in Nigeria.
This is why 911 won't work in Nigeria.

— Chidi Okereke (@Chydee) April 14, 2022
"Prank calls are also made abroad". You must not know that Nigeria is built different. Also not about to argue with anyone. I hope to be proven wrong. https://t.co/qE2ErJrhnk

— Chidi Okereke (@Chydee) April 14, 2022