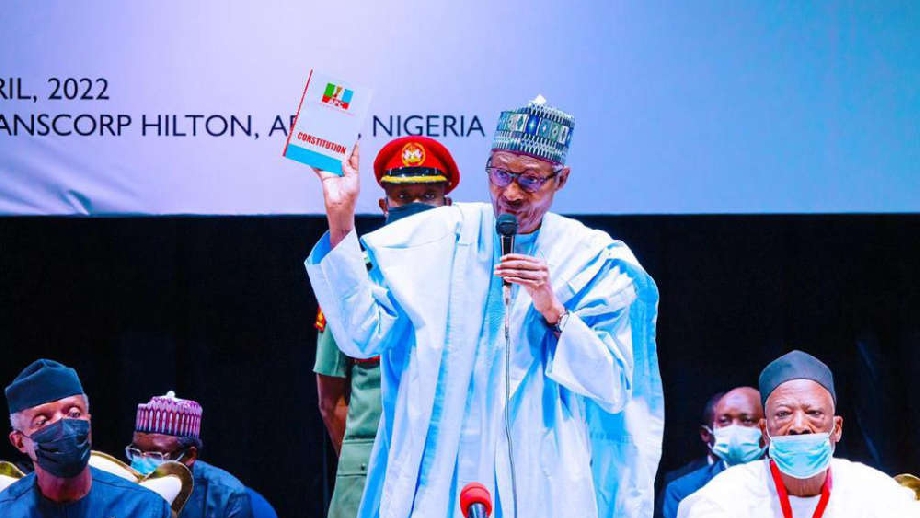 The All Progressives Congress has pegged its presidential Nomination and Expression of interest forms at N100 million.
The decision was taken at its 11th National Executive Committee (NEC) meeting in Abuja on Wednesday.
This has stirred reactions from online users, including politicians.
100,000,000.00 for forms.

— Bashir Ahmad (@BashirAhmaad) April 20, 2022
100M for the form. Wow!

— Adamu Garba II (@adamugarba) April 20, 2022
One of the Presidential aspirants of the APC, Adamu Garba (@adamugarba) appears to be dissatisfied with the cost of the nomination forms as seen in his tweet.
If we don't come together and use our collective power to save this country from strangulation of the moneybags, we are doing a great disservice to our generation and that of the future.

We cannot continue to buy political offices in Nigeria, we need competent leaders come 2023

— Adamu Garba II (@adamugarba) April 20, 2022
Don't see me as individual called Adamu Garba, see YOU in me. You have same right as I. You can also decide to aspire for any office of your choice.

If they try to turn me off and we let them, they'll do to you too.

This is our moment to show our collective resolve for Nigeria.

— Adamu Garba II (@adamugarba) April 20, 2022
Mr Garba is being trolled for raising alarm about the cost of the forms.
Adamu Garba is a distraction.

Let's focus on the good candidates for 2023.

— Mo-Mo (@Morris_Monye) April 20, 2022
Adamu Garba have been shouting he wants to be president since last week. He went to buy presidential form today and they told him 100 million Naira.

He said Wow! 😂😂😭😭😭

— IRUNNIA (@Irunnia_) April 20, 2022
We should donate money for Adamu Garba to buy the APC presidential form like we did to Buhari

— Sarki. (@Waspapping_) April 20, 2022

There are people who believe the high cost of nomination forms is responsible for the embezzlement of public funds when politicians get into office.
#100m for Presidency Form? Tell me why there won't be embezzlement.😒 pic.twitter.com/HUXVJEX5tC

— TripleHay of UNILORIN⭐ (@TripleHay001) April 20, 2022
Nigeria is too poor for politics to cost so much. Why won't politicians try to recoup their 'investment' when they get into the seat? #100m

— Asiwaju Olujide 🇳🇬 (GCFR) (@Jide_Olusola) April 20, 2022
#100m to buy 1 form, tell me how the person buying this form won't take a loan to pay & when they win, they'll use government money to repay personal loan they took to buy nomination form.

— Dami' Adenuga (@DAMIADENUGA) April 20, 2022
On the other hand, some persons are bashing President Muhammadu Buhari under whose watch the nomination forms rose to N100 million.
2015, Buhari purchased APC's nomination form for 25M , 7 years late the same APC presidential form is selling for 100M .

I feel like The only person that can afford this money is Tinubu.

Where Adamu and Osinbajo wan see 100M? Even if peter Obi Get 100M e no go wan spend am.

— Oyiga Micheal (@Nsukka_okpa) April 20, 2022
President Buhari met nomination form at #27m, he influenced it to #100m. He's a good President.

— Alabi John Ozovehe (@johnvehe) April 20, 2022