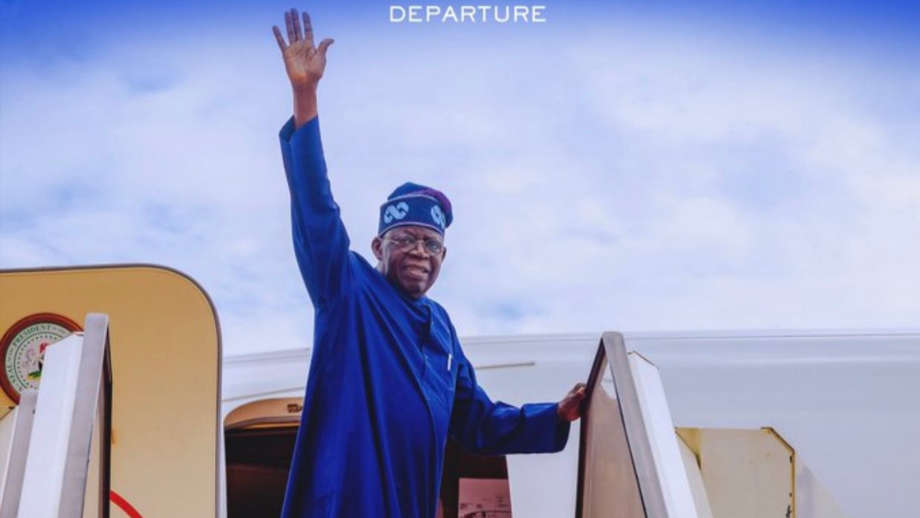 President Bola Tinubu on Sunday arrived in New York for the high-level meetings of the 78th session of the United Nations (UN) General Assembly.
The UN correspondent of the News Agency of Nigeria (NAN) reports that Tinubu arrived at the JF Kennedy International Airport in New York at about 6:45pm local time.
The President is leading the Nigerian delegation to attend the scheduled events of the general assembly from Sept. 18 to 26 in what is his first outing in his capacity as the President of Nigeria.
The president was received by the Minister of Foreign of Affairs, Amb. Yusuf Tuggar, the Permanent Representative of Nigeria to the UN, Amb.Tijjani Muhammad-Bande, and Maj.-Gen. Dangana Allu, Nigeria's Defence Attache, Washington D.C.
NAN reports that Tinubu's reception was a departure from the usual tradition where officials would line up at the airport to welcome the president.
This time, only three officials were there at the airport to receive the President with the other Nigerian officials stationed at the UN Plaza Millenium Hilton Hotel to welcome him.
Those at the hotel to welcome him were Nigeria's Ambassador to the United States, Amb. Uzoma Emenike; Consul General of Nigeria in New York, Amb. Lot Egopija; and Consul General in Atlanta, Amb. Amina Samaila.
Others are Akwa Ibom State Governor, Umo Eno; Gov. Seyi Makinde of Oyo; Gov. Uba Sani of Kaduna; Gov. Inuwa Yahaya of Gombe; and Gov. AbdulRahman AbdulRasaq of Kwara, among others.
Tinubu, in his inaugural statement to the Assembly, will be addressing world leaders in the evening of Tuesday at about 6pm local time.
The Nigerian leader will be the fifth African leader to speak on day one of the gathering and 14th speaker out of 20 leaders slated to speak in Tuesday.
Tinubu's address will encompass several issues such as sustainable development, climate change, global cooperation, and the imperative to address inequalities and global humanitarian crises.
On Wednesday, the Nigerian President is slated to participate in the high-level dialogue on financing for development.
He will attend a high-level meeting on Pandemic Prevention, Preparedness, and Response.
On Thursday, he will be participating in the UN Secretary General's Climate Ambition Summit and attend a high-level meeting on Universal Health Coverage.
He is also expected to join another high-level panel on reform of the global financial architecture.
On Friday, he will be attending the high-level meeting on the fight against tuberculosis.
During the week, Tinubu is scheduled to hold several bilateral meetings with world leaders including the presidents of the European Union Commission, Brazil, and South Africa, among others.
Tinubu will also advance his economic development agenda for aggressive investments attraction in meetings with the global leadership of transnational firms.
Among such firms are Microsoft, Meta Technologies, Exxon Mobil, General Electric, and a few others.
The theme of the UNGA is: "Rebuilding Trust and Reigniting Global Solidarity: Accelerating Action on the 2030 Agenda and its Sustainable Development Goals towards peace, prosperity, progress, and sustainability for all. (NAN)