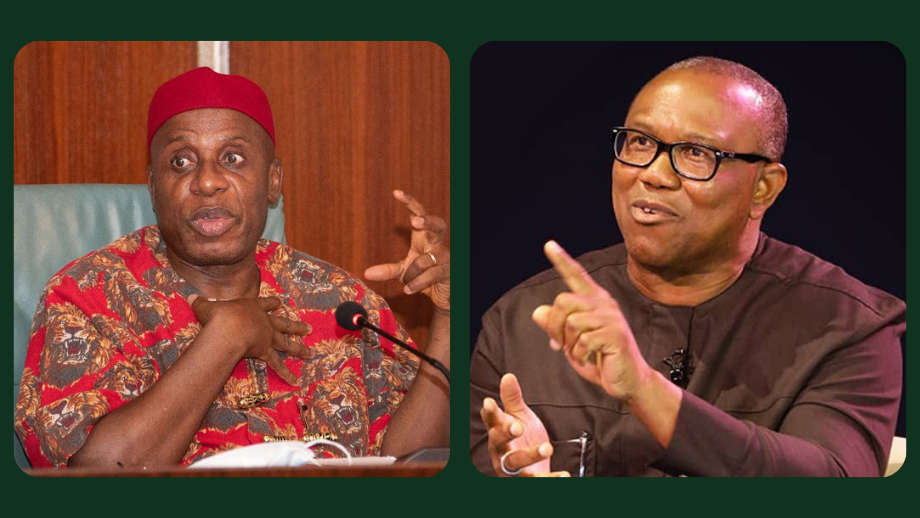 Last week, I started this piece talking about the three individuals who I think are best placed, to be the closest thing to what Nigeria needs as president, come 2023. 
It generated quite the reaction I must say especially as we all have our individual preferences.
Again, let me reiterate that my list doesn't contain any Northerner.
And as I explained here last week, it is because I believe that fairness, equity and justice entails that after eight years of the Buhari administration, it will be an anomaly to have another person from the same region become a leader in a multi-ethnic society as ours.
President Buhari did reveal to Channels TV earlier this year that he has a preferred candidate.
However, he added that he "wouldn't (mention the name of my favourite successor) because he may be eliminated if I do. I better keep that a secret."
Many believe that the favourite successor is President Buhari's Minister of Transportation, Rotimi Amaechi.
For the past six months, the former governor of Rivers State's name has been mentioned by a number of my sources as the president's preferred choice. To be honest, I took it with a pinch of salt.
But it does look like this is a real possibility now.
"Amaechi wants to run," a trusted source told me last week. "He says there are certain things that need to be put in place or align before he will make his plans public."
Peter Obi.

Rotimi Amaechi.

Yemi Osinbajo.

My Top 3 picks for The Presidency.

Bola Tinubu would've been one of my top picks in 2015.

But we're in 2022.

— Ufuoma Egbamuno (@Foskolo) February 2, 2022
When I put out this tweet from two weeks ago, quite a number of responses questioned my choice of Amaechi. And I can relate to those oppositions.
If this was 2011, Amaechi's choice would not draw the same type of opposition as I witnessed on my post.
But the events of 2014 which led the former Rivers governor to decamp from the then ruling PDP, to the APC made Amaechi persona non grata for a lot of folks.
In case you have forgotten, Amaechi's problems may have begun when he nominated present governor, Nyesom Wike as Minister under President Goodluck Jonathan.
At the time, Wike wanted to replace his boss as governor but Amaechi insisted that as a matter of fairness, the governorship of the state should rotate from the upland (both him and Wike are from the same Ikwerre Ethnic Nationality) to the riverine axis of the state.
But Wike had other ideas.
And reportedly, with the help of the then First Lady, Patience Jonathan, the present governor ensured Amaechi would leave the party.
That singular decision – supporting a foreigner (President Buhari) against his own brother (Jonathan) may have remained Amaechi's greatest sin till date.

But for a moment, take a step back and critically look at Amaechi's eight years as governor of Rivers State: many in Rivers will tell you the state has not had a governor like the Ubima man, not even Wike comes close.
Governor Wike has been fantastic with infrastructural development strides in the past almost seven years.
But here's the difference: while a majority of Wike's giant strides have centred on the capital, Port Harcourt and Obio Akpor Local Government Area, Amaechi's infrastructural strides were a lot broader and across all areas of the state.
You don't have to take my words, just ask anyone old enough between 2007 and now.
Amaechi's education reforms will remain one of his biggest legacies in Rivers State. When he assumed office in 2007, the rot and decay in the sector was palpable.
But he reportedly built about 500 primary schools across the state. There is no local government you go to in Rivers that does not have a signature Amaechi school.
On the health front, the Minister of Transportation built just over 110 health centres located in nearly all the wards in the state.
But what I consider Amaechi's biggest achievement is his detribalized nature. In a country where nepotism, ethnic considerations come to the fore almost all the time, Amaechi is one of the politicians who cares less about where you are from.
It is on record that many of his appointees were not indigenes and that many students – both Rivers and non-Rivers people were awarded scholarships.

So, when you come across threads like this with quite a huge number talking positively about Amaechi, just know it is not a fluke.
Who Among These Impressed You Most As Rivers State Governor From 1999 Till Date?

1. Dr. Peter Odili

2. Rt. Hon. Chibuike Amaechi

3. His Excellence Barr. Ezenwo Nyesom Wike pic.twitter.com/ORejX6hsOo

— PORT HARCOURT IN PICTURES (@PHCJagaban) January 29, 2022
But like every individual, Amaechi had his flaws.

The failed Monorail project is the most visible for all. While the idea might be great, one might argue it wasn't what Port Harcourt needed at the time.
Plus, has anyone really bothered to question how the budgeted money for the project was spent?
And how about the fact that for two years, the courts were under lock and keys in Rivers State. For those of us who lived through that dark period in Rivers State, it is not what anyone wants to witness again.
However, if there's one man I believe stands ahead of the chasing park for me, then, it has to be the former governor of Anambra State, Peter Obi.
Let me quickly say that Obi's chances of becoming Nigeria's president is as difficult as the biblical camel passing through the eyes of a needle partly because of his tribe.
Obi is Igbo. The Igbos are the only major tribe in the land yet to taste the Presidency and it is no accident.
Former Vice President, Alex Ekwueme spearheaded the formation of what we now know as the PDP. At the time, many felt he was the Presidential candidate of the party in waiting.
But many strongly believe, asides the unwritten agreement to assuage the South West plus the military disposition towards one of their own, Ekwueme's tribe counted against him.
Our attitude as a nation towards the Igbo man since the end of the civil war is a conversation we are not ready to have as a nation but that's a topic for another day.
Obi faces same challenges in 2022 as Ekwueme in 1998. Last week, I explained how Obi's party believe a Northerner would give it more chances of victory. Politics is about numbers. Even if all five South East states give all their votes to Obi, it is not enough to win Nigeria's Presidency.
Perhaps, even Obi himself understands this dynamics hence his decision to insist on zoning to the South as his criteria for joining the race.
Yes, I will step into the field to contest for the opportunity to serve this great country as President if my party, the @OfficialPDPNig, zones the ticket to the south. But if it is thrown open, Nigerians will also hear from me. -PO

— Peter Obi (@PeterObi) January 31, 2022
I worked in Onitsha between September and December 2018 as News Editor for Wazobia FM. In those three months, almost everyone you ask about Obi had something wonderful to say.
That for me is the biggest PR you can ever have. And Obi has it in abundance so I won't bore you with some of his achievements.
Has he got faults? Oh yes!
The Panama Papers reports didn't paint him in good light. He even admitted to what, in a sane society, he should be prosecuted for.
But place Obi alongside everyone that has intention of being president – Tinubu, Osinbajo, Amaechi, Okorocha, Umahi etc – then I will argue that Peter remains the lesser evil.