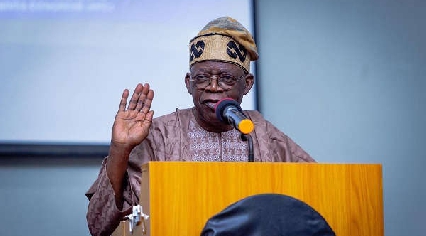 Nigerians are reacting to the statement by the National Leader of the All Progressive Congress, Bola Ahmed saying he deserves to be Nigeria's President in 2023.
For many, the Office of the President is not compensation or reward.
Crazy how Bola Tinubu genuinely believes he should be rewarded with the Presidency for helping usher in the worst President in the history of Nigeria...

Aso Rock is not a "thank you" gift or a souvenir. He should keep crying. His tears will make my weekend🥳

— UG (@UgwunnaEjikem) June 3, 2022
The entire Tinubu campaign is wrapped around it being his turn. His whole claim to the Presidency is "I made you. I helped you. I dashed you. Now do it for me."

No policy proposition. Just the naked, directionless ambition of one man

— 20.10.2020 (@I_Am_Ilemona) June 3, 2022
So for real, Tinubu thinks he should be rewarded for installing d worst calamity on us since d start of this country. He should be awarded for the hunger, unemployment, killings, division, inflation, police brutality, kidnapping, corruption….just name it! Affliction? NOT AGAIN!

— FS Yusuf (@FS_Yusuf_) June 3, 2022
Tinubu's manifesto is essentially, 'na my turn". Wahala for Nigerians wey dey find good governance.

— Neto (@docneto) June 3, 2022
A Twitter user identified as @kodoro22 says even though Tinubu has made others in the past, he can never be President of Nigeria.
He's made people in the past. That's his glory. That's his destiny. He's a king maker. He should continue to be one. He won't rule Nigeria. It is his vision, unfortunately not his destiny. Tinubu will never become president. You can fav this tweet.

— Olamiposi B. (@ololadeposi) June 2, 2022
@IamTheIroko on one hand insists that since Tinubu started his campaign, he hasn't mentioned any policy he intends to change.
Since Asiwaju Bola Ahmed Tinubu started his campaign for Presidency, he hasn't articulated or highlighted one single policy or policy change in other to prosper the country. Just emotional blackmail..

Is this your President? Can never be mine.

— Raymond (@IamTheIroko) June 2, 2022
I had a good laugh while watching Tinubu's video. No plan for the country. Just I made Buhari president. I made Dapo governor. It is time for Yoruba. I want historical records.

Any youth supporting this movement is a failure. You all should be ashamed of yourself.

— Snr Copywriter Chinedu Ihekwoaba (@thepoetpreneur) June 3, 2022
Former Media Aide of Ex-President Goodluck Jonathan, Reno Omokri also says the National leader of the APC doesn't appear to have plans to fix the country.
Tinubu's argument is not about Nigeria, or her peoples. Watch his video in Ogun. He said he made Buhari President and as such Buhari should suppprt him. Nothing about what he would do for Nigerians. He is appealing to Buhari instead of Nigerians!#TableShaker #BuhariTormentor

— Reno Omokri (@renoomokri) June 2, 2022