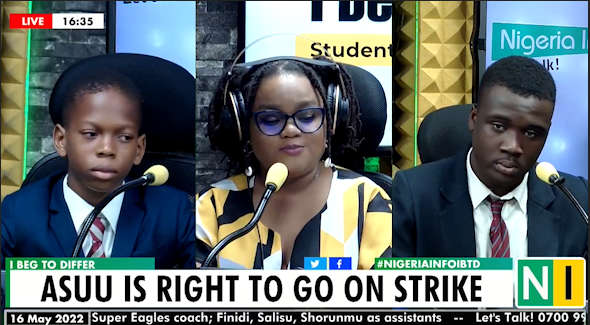 The quarterfinals of the 'I BEG TO DIFFER' debate tournament kicked off with 15-year-old Hameed Olarenwaju of Rainbow College Day School, Sururlere and 12-year-old Ebule Timothy Chukwuebuka of Bijamic Private Schools Ajah competing for a chance at the semifinal.
Both contestants slugged it out on the topic, "ASUU Is Right To Go On Strike."
Hameed Olarenwaju, who opposed the motion, said, "the Academic Staff Union of Universities (ASUU) is only concerned about their pockets and not the welfare of students."
He added that ASUU is avoiding the Integrated Payroll and Personnel information system (IPPIS) because they are against ghost workers getting revealed.
For his part, Ebule Timothy Chukwuebuka, in support of the motion, insisted the federal government should use tertiary trust funds to resolve the issue with ASUU.
In his view, the federal government's inability to comply with the 2009 agreement is sufficient cause for ASUU's strike.
Following a careful evaluation of the arguments and presentation styles of both finalists, the judges declared Hameed Olarenwaju the winner, placing him in the semifinal round.