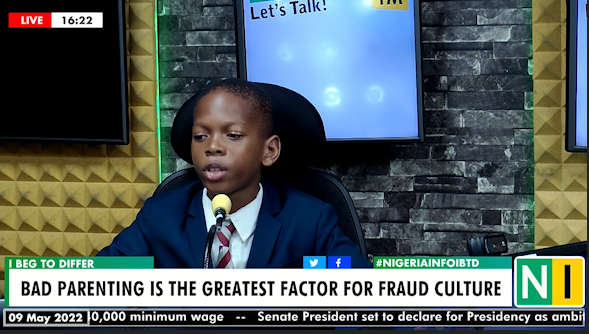 The third edition of the 'I Beg To Differ' tournament which began on Monday has seen its first quarterfinalist.
The tournament made up of sixteen contestants began with 15-year-old Justina Adoyi of Bethesda Senior Secondary School Ikota and 12-year-old Ebule Timothy Chukwuebuka of Bijamic Private Schools Ajah going head-to-head in the first round.
They both debated the topic, "Bad Parenting Is The Greatest Factor For Fraud Culture".
Justina Adoyi who supported the proposition insists that poor parenting instils in children the desire not to pursue legitimate sources of income.
She argued that conflicts and violence between parents increase the odds that their children will turn to criminal activity.
Ebule Chukwuebuka's opposition to the motion asserted that society is to blame largely for the fraud culture among youths.
According to him, society praises individuals with questionable wealth and this leads to youths wanting wealth in any way they can.
Having weighed arguments from both contestants, the panel of judges picked Ebule Chukwuebuka as the winner and the first quarterfinalist of the tournament.