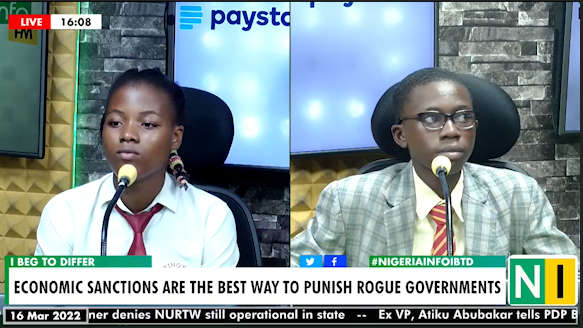 14-year-old Ruth Okorocha is through to the semifinal stage of the 'I Beg To Differ' debate tournament after an intense debate with 14-year-old Abayomi Ogunleye.
Both participants debated the topic "Economic Sanctions Are The Best Way To Punish Rogue Governments"
Ruth disagrees with economic sanctions as a means to punish rogue governments, argues that economic sanctions affect both the governments in power and the citizenry.
According to her, countries over time have built resistance to some economic sanctions.
14-year-old Abayomi argued precise sanctions placed on certain government individuals and elites would not affect the citizenry.
After a lengthy deliberation by the panel, both contestants tied at 99 points each.
This led to a tie-breaker round during which both candidates switched sides in their argument for a tie-breaker round.
14-year-old Ruth Okorocha won the tie-breaker round and advanced to the semifinal.