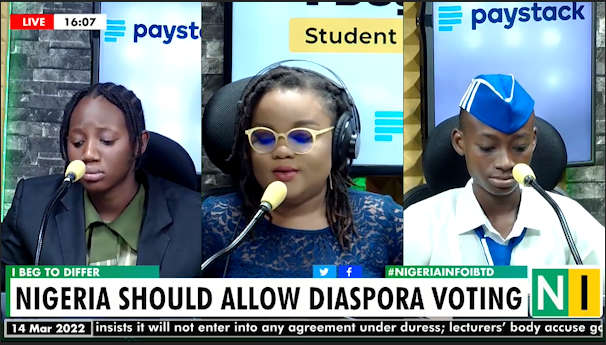 The quarterfinals of the 'I BEG TO DIFFER' debate tournament kicked off with 15-year-old Debrah Pamzat and 16-year-old Clement Braimoh going head-to-head for a chance at the semi-finals.
The first quarterfinal session saw contestants debate the topic, "Nigeria Should Allow Diaspora Voting".
15-year-old Pamzat, who supported the motion, argued that the constitution makes provision for all Nigerians to exercise their franchise.
She added that the location of Nigerians around the world should not disqualify them from voting.
On his part, Clement Braimoh, in opposing the motion, insists that allowing Nigerians in diaspora vote would be an added expense on the electoral commission.
According to him, Nigerians in the diaspora who wish to vote should return to the country.
The judges, having weighed the arguments and presentation of both contestants, certified Debrah Pamzat as the winner, hence progressing to the semifinal stage of the tournament.