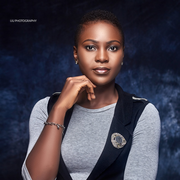 Show: Chat Station
Bio: Denise Dennis, an award winning broadcast journalist.
Denise is a public speaker, a quintessential Master of Ceremonies, an understanding, incisive and compassionate "Agony Aunt," and voice-over artiste.
As a result of her understanding of the tumultuous experiences of adults, and the attendant unanswered questions with regards to life, love, sexuality, emotions, faith, and relationships, including marriage, she has often provided reasonable answers and guidance to all who follow her.
She birthed "Project RAW," an acronym for "REAL ADULT WORRIES"....(A Safe Haven for Real and Mature Conversations) in the month of May 2019, a forum at which she speaks uncensored on real adult worries.
Her fans, many of whom fondly call her DD, identify her as sagacious, vivacious and gutsy.