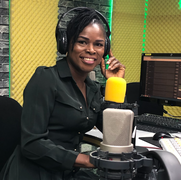 Facebook.com/Enigmacityng
Twitter/Instagram @enigmacity

I also anchor the Weekend Gist
9pm-Midnight Saturdays.
Enoh Ogbevire,is a multiple award-winning Nigerian Broadcast Journalist. She anchors
the morning show on 92.3 Nigeria Info from 5-10am weekdays.
She is an accomplished multimedia journalist with wide experience working in
television, radio, text and digital for HOT FM Abuja, Grace FM Lokoja, Confluence
Television Lokoja, City 105.1 Lagos and Nigeria Info Ph.
She also heads the News Department at Cool Fm, Wazobia Fm and Nigeria Info Fm
stations in Port Harcourt. She presents and provides content for radio and digital media.
In 2016, she won the Best Radio Newscaster (Female), Nigerian Broadcasters Merit
Award. In 2018/2019, Enoh won the Media Awards Prize for Radio Show Host
(Inspirational). Other awards include LEDDE Award for Most Inspiring On Air
Personality, 2017. Ambassador of Societal Development Award in 2018.
Enoh (Enigma as she's fondly called) presented, I AM Rivers on Let's Talk on Nigeria
Info PH, a radio series focused on the impact of Young Rivers Indigenes in different
fields.
Her primary focus is on the right Education, Youths, Good Governance, Personal and
Professional development and this resonates in her work on radio, online and on
different platforms.
Enoh has built an inspiring career as a Moderator and Speaker. She enjoys questioning
the status quo and disruptive conversations and has chaired, spoken and sat as a
panelist on issues that revolve around her area of focus.
She has authored two books 'AND THE MIC CAME ON'-Strategies and mindsets for a
phenomenal career and YOUR MONEY OR YOUR LIFE.
She's a graduate of the University of Lagos with a 2:1 degree in Philosophy. She also
has a Post Graduate Diploma at the International Institute of Journalism.
and has attended many trainings with various international organizations.
With a passion for capacity building, she hosts a podcast Anchor.fm/enigmaspeaks
Enoh believes anyone can get to any height in life, if they desire to and are willing to put
in the work that is required.