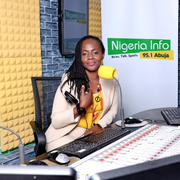 Inya J. Ode is a Veterinarian by profession and a Broadcaster by PASSION and has been for over 10years now, starting off at Kiss FM Abuja from January 2010- January 2012 and Nigeria Info Abuja from May 2012 to date.
Inya is a family and values oriented person and she connects with her audience in unique ways.
She can talk about anything and everything and in all conversations, she remains solutions-driven.
Inya is married with three children and is the host of the Midday Dialogue and Let's Talk Sundays.
She is also an events compere who loves singing, counselling, being with family and friends and of course, TALKING!
Twitter: @inya01
Facebook: www.facebook.com/inya.ode