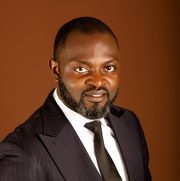 Fortune is a Trained Agricultural Economist, extension agent, event host, public speaker and media personality with 95.1 Nigeria Info FM Abuja. He hosts the "Lets Talk '' Show, 6 days a week with his radio buddy Gabriel Specter.
His interests span the areas of human capital development, good governance, and accountability, and he promotes these concepts on the various shows he is privileged to anchor on a daily basis.
A broadcaster with over 7 years of experience on various media platforms on both Radio and Television, Fortune brings an exuberance to his delivery that enriches his expression and makes Him a total delight to hear.
Fortune is a husband, and father and loves to spend time with family, friends and young people and constantly seeks opportunities to learn while adding value. He is a car aficionado and is famous for his Autobahn radio show during which he beautifully blends his love for cars and the microphone.